Scene Princess and former as well as present StickyHouse invitee Amor Hilton popped a liver-friendly little helper and talked shit on her former roommate Kelly Anne Chaos. Earlier this month, Kelly had posted a tell-all blog about her time living with Amor.

Amor replied in full force, gleefully recalling the tragic demise of Kelly's cat.
[kaltura-widget wid="0_iyjlj5ta" width="410″ height="364″ addpermission="3″ editpermission="3″ /]

[CLICK TO KELLY'S BLOG IN READ IN FULL RESOLUTION]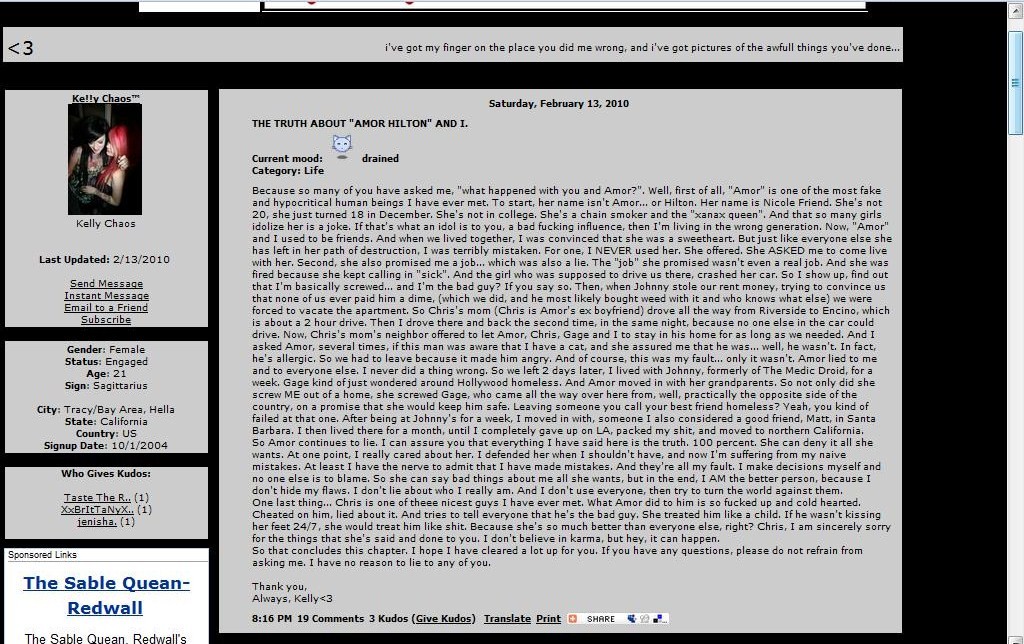 [CLICK TO READ KELLY'S BLOG IN FULL RESOLUTION]
Let this be a lesson, kids.  Don't let internet franz be roommates.  Do their drugs, fuck them bloody, and move on.  Oh, and are we the only one who finds it a little creepy that Amor is pictured in Kelly's profile pic as she published this blog post?
http://twitter.com/AmorHilton

http://twitter.com/KellyAnneChaos
Views All Time
1
Views Today
1