15
Jun
(musicians, MyDrama, shave that sh*t, Twitter)
Just for laughs… I love ya Adam, but what's happening here? Adam is the lead singer of Owl City. I guess I know what to look for when I'm at our local Walmart.
(Fingers crossed I run into him! ha ha)
http://twitter.com/owlcity
13
May
(Home, News, shave that sh*t, Tila Tequilla)
Rank!!!  Also, while you're at it shut down that faux gossip site (horrible horrible).
Go back to showing your vag and grinding your babymaker in the air and having meltdowns on Ustream again.
P.S.,  I think everyone has seen your nipples and disgusting refund gap to many times…no need to point out.
2
Apr
(Amor Hilton, c*m dumpster, just sayin, MyDrama, shave that sh*t, STDs, Valley trash)
First off, they're both on meth, they have shitty hair and make-up, & they both have the habit of going out looking like shit and high out of their minds.
Maybe they can they can meet up in the Valley and do meth together!
Fail post, whateves.
[Sticky's note:  This is a perfect example of when to use the "just sayin" category:  When you're comparing or noting a similarity between an online character to an IRL person or whatever.  Use the "twins" category to compare two similar-looking online characters.  JS.]
25
Mar
(Chris Crocker, ghey, iPhones, News, shave that sh*t, sleaze)
Many thanks to a Frowndr admin for sending StickyDrama this cute little gem, which we couldn't resist posting right away.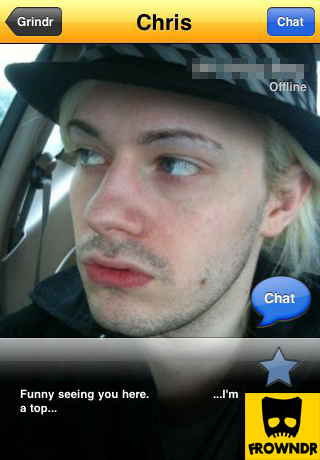 Frowndr's admin explained, "I found this profile of Chris Crocker on Grindr (iPhone application for gay men to meet and hook up), and posted it to my website.  He claims to be a top… uh huh….  On the application, its sorts users by distance, so the other user that is closest to you shows up first. It also shows you how far away someone is, so say, if you are in the same store with someone, it will show them as Zero feet away."  StickyDrama has a Nokia, so we'll just take his word for it.
While we've all seen Chris at less than his best, StickyDrama was shocked that he would use such a stubbly unwashed picture for his profile.  Since the app is designed for mobile users seeking impromptu encounters—for which the e-famous femme might not have any opportunity to shit, shower and shave—perhaps he wanted to give potential hookups a realistic idea of what they were getting themselves into (so to speak).
27
Feb
(Jeffree Star, MyDrama, shave that sh*t)
[Sticky's note:  This author totally fucked up his image code, but I posted it anyway.]
Thoughts?
1
Feb
(MyDrama, shave that sh*t, who is ... ?)

i wonder how long it took her to grow that sexy mustache.