StickyDrama normally slakes our thirst with warm milk of str8 boys. However a recent Twitter fight that migrated over to Stickam introduced us to another salty refreshment:  the heartbroken tears of Breeanna Rose.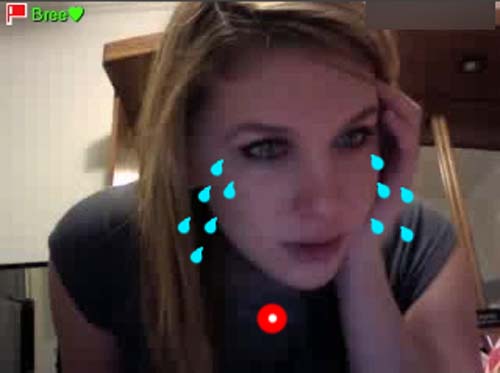 Eden Shizzle arrived at StickyHouse with a determination to get fucked out of his mind and a bone to pick with Bree.  A couple of Eden's little helpers later, and he was tweeting her n00dz.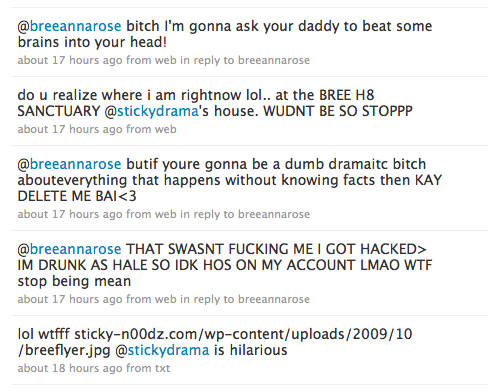 Bree was outraged, even though her naughty parts have already been seen by pretty much everybody with an internet connection, and demanded that Eden delete his tweet.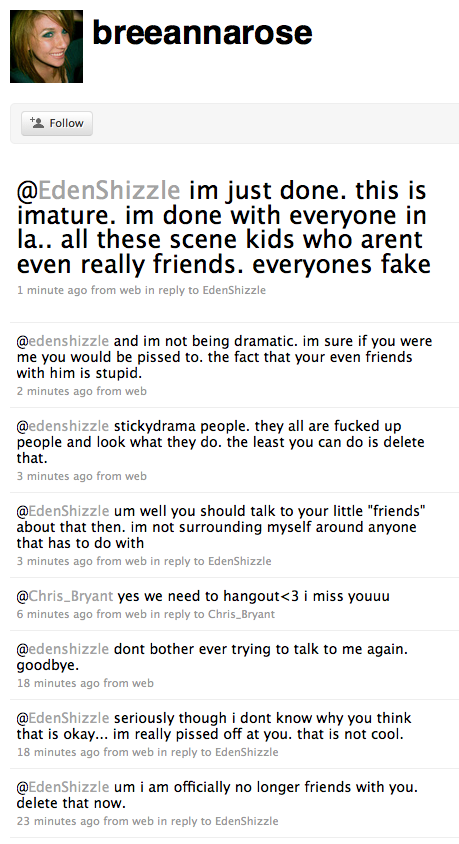 But he didn't delete it, despite apparently regaining control of his "hacked" account, and in fact his n00dz tweet remains as of this post.  Bree then made the unwise decision to go Live and vent on Stickam.   Eden went into her Live and screen-recorded his conversation with her.  He gave StickyDrama the recording, and we've edited together the best moments for our readers:
[kaltura-widget wid="htsbknzsvs" width="410″ height="364″ addpermission="3″ editpermission="3″ /]
"I'm freaking done with the world,"  Bree whines just before the tears flow.  We can only hope.  Just remember Valley trash, before doing anything stupid, go Live and do it on cam.
http://twitter.com/EdenShizzle
http://twitter.com/breeannarose