"You're not allowed in the office," a Stickam employee matter-of-factly told StickyDrama outside the Bank Tower in downtown Los Angeles, "because you're press."  Press!  And here we thought we were just a cocksucker with too much time on our hands.  Of course, we weren't going to let bullshit like that stop us.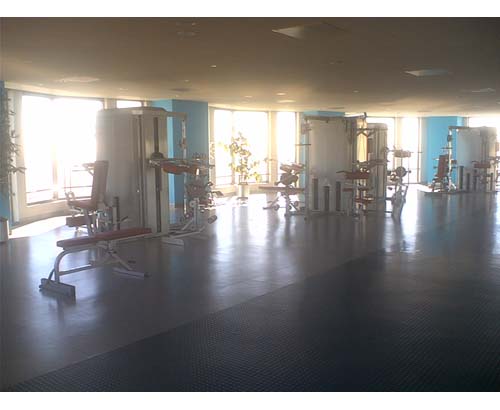 The above picture, taken with our cellphone, is from inside Educogym's newest location on the 57th floor of the U.S. Bank Tower.  At that height, in a state where marijuana has been decriminalized, Educogym is marketing the branch as "the highest gym in the world."  The Los Angeles Downtown News reported that the upscale gym just opened last week; an annual membership is somewhat high—$2900, which coincidently is the same amount we spent pwning Stickam—but includes a personal trainer and dietary consultant.
Security inside the Tower is tighter than Kiki Kannibal's vagina was about 5 years ago.  To reach the top floors of the building, you need to pass not one, not two, but three security checkpoints:  the front desk, the elevator bank, and the transfer bank on the 54th floor.  Since Stickam made it clear they wouldn't be inviting us anytime soon, we pretty much gave up on our fantasy of fondling Adam Paranoia's tight little Mexican buns in the Tower's crowded elevators.  (We're just kidding.  Adam's not really Mexican.)  But if StickyDrama were an Educogym member, we could ride those elevators all day long waiting for you-know-who.
Should the whim suddenly take you to slap a ban-happy Admin right in the kisser, or rub up against your favorite Stickam employee on his or her way to work, no appointment is necessary to *ahem* tour the gym.  We just waltzed up to security and said we were interested in joining the new gym on the 57th floor.  Although we didn't sneak away and enter any of Stickam's floors, we certainly could have:  After leaving the gym we noticed that the guard at the transfer bank was away from his desk.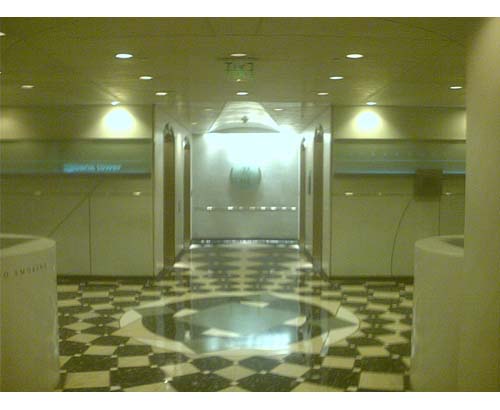 We took advantage of his absence to take a quick cellphone photo (above).  There was ample opportunity to transfer to the 64th-72nd floor elevator, which takes you to Stickam, instead of returning to the lobby.  Not that we're the type of cocksucker who puts ideas into anyone's head.