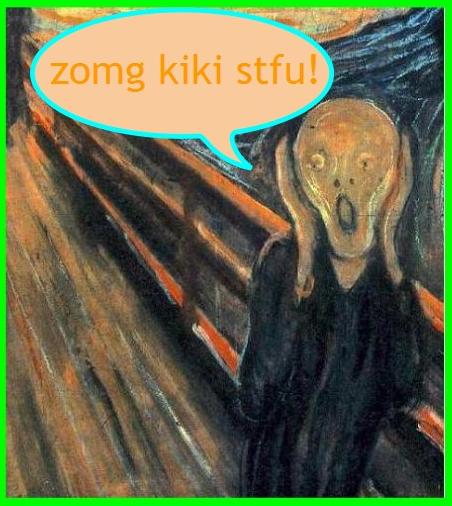 Watching Kiki's latest doozey over on her youtube has made the CFL wonder if perhaps we're too optimistic about the future of today's youth. Surely everyone cannot be as utterly ignorant, shallow and fucking egomaniacal as Kiki Kannibal, right?!
The video in question is aptly and hilariously entitled 'Help with Fight Libel'. One cannot fully appreciate this title until it is said aloud to oneself a few times. Kiki got the general idea across with this title but normally one would want to use a complete thought when correctly titling an item.

In this 10 minute horror film, Kiki rattles off definitive statements about how she is going to sue countless people for what she terms as libel. This video is pleading for pro bono legal work or funds from investors misguided enough to help this brat defend herself against the droves of haters. Her lawsuits will include those not satisfied with her rinky-dinks and those who mock her online. She speaks about suing makers of the recorded videos of her on sites like youtube — For our part we hope she was thinking about our video we made with love and posted back in September.
My favorite part of the video is watching her digress in a vicious cycle, finally claiming that all recordings are illegal:
'When you record someone without them knowing, that's illegal. If you record a phone call without them knowing, that's illegal. Anything. If you record anyone without their knowledge of it, that's illegal.'
Thankfully we live in the United State of America, a beautiful country where we can speak freely without fear of unjust imposition. In a land where we can freely mock even our highest leaders — we cannot criticize rinky-dink, over priced jewelry made by a true teen cunt? I think not. This money hungry bitch would have her case laughed out of court. What evidence would she provide as proof that these instances of 'libel' damaged her rinky-dink business? That id love to see. In Kiki's world, consumers would not be able to speak negatively about things they purchase. If that were true, the whole site Angie's List would not be allowed to stay online.
As for the law itself, it is true that Florida (where Kiki lives) is one of 12 states where both parties being recorded must give consent. However, its unfortunate for Kiki that in Oregon where CFL resides (and 37 other states), we only need one party consent (source). Those specific stipulations don't even apply to this case because no one is trying to submit these recordings in a court of law — where they would not be accepted as evidence. They are simply recorded for lulz online which is entirely legal. Kiki has no legal expectation of privacy on Stickam or the internet abroad as it is a very public place.
What Kiki fails to understand is that she is on the losing side in this case. She needs to watch more Judge Judy to see the cute bitches like her get a swift double serving of the law to the face. Anyone who has experience with her mother knows full well the source of this false confidence in her ignorance. She fails to realize that sometimes people are not jealous of her but rather find her authentically obnoxious and utterly repulsive — and those people ARE allowed to scream their opinion from the mountain tops.
We urge the particular girl in this case that Kiki speaks of in the video to hold fast to your position. Fight Kiki in this case to open her eyes to realities her mother keeps from her. The world will not make way for her to do as she pleases.