Bisante's online life was utterly pillaged this evening. No permanent damage was intended on Bisante's accounts except his myspace which was permanently deleted. He has re-opened a new myspace on his old URL.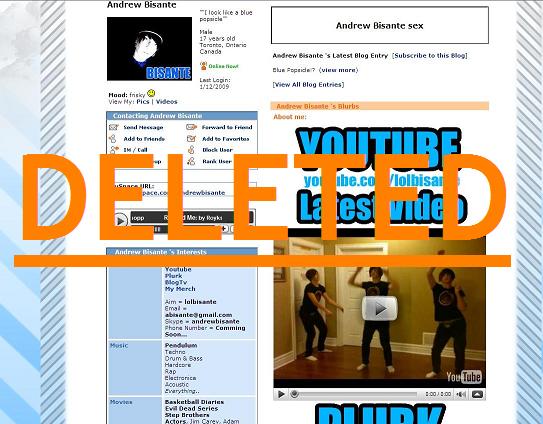 The events began after his live ended on BlogTV today in his lullzy shirt. The invasion was low-key till they went into his Stickam. They went live on his account, which has been dormant for some time and broadcast a video of a girl shooting a banana out of her ass. It made us lul.

The CFL has been anonymously given a folder of 200+ screen caps and goodies. We were in contact with the pillagers and made deals to allow Bisante to reclaim both his Youtube and main hotmail accounts. They gave the accounts back to Bisante only when he gave us his word on Skype that he would leave BlogTV — where he went after angrily leaving Stickam. He has deleted his account to the scum sucking website. Soon thereafter he was given back the accounts and the torment ended quite peacefully. The deal also entails that if he does go on cam anywhere it has to be on his Stickam. We fully understand that Bisante has plenty of haters – but he has always had a special place in our heart. In our opinion it will be nice to have him back around Stickam.