There are many videos of Hot Mami, who recently changed her Stickam display name to Lov3g?dd3ss.
There are god only knows how many videos of her exposing her breasts. There are several videos of her deep-throating a red dildo. There are at least 2 videos of her squirting pussyjuice all over the place and there is a video of her manually guiding her husband's cock into other woman's va-jay-jay.
But whereas her erotic videos provided cheap tawdry amusement, StickyDrama recently acquired a recording whose exquisitely raw look into her life is sure to stiffen the cocks of Epicurean cappers who have moved beyond perversion of the flesh, and now only delight in degradation of the soul.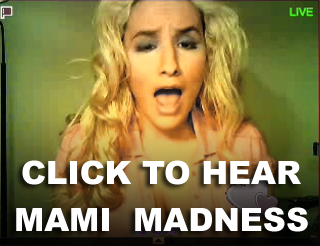 Our readers will be treated to Mami's 30-minute fight with her husband Von, who lately has noticed that his wife is acting "weird" and "irrational at times," and he is "scared" that she might "get stuck that way," which is to say bonkers. Mami, slurring her speech and sounding as coherent as Anna Nicole Smith on a kilo of coke, actually agrees and offers to check herself in to a mental hospital.
Crazy as she sounds, she's concerned for very rational reasons: Her husband has told her he needs to "travel" (we would too in his shoes) and hasn't forked over any of the insurance money from the housefire Mami started; Mami wants what she considers her fair share. Specifically, she wants $100,000 upfront in case her husband finds "some hot brunette from Puerto Rico" or even a "stripper" and leaves Mami penniless … as he did to his previous wife whom he dumped for Mami.
These two were just made for each other!
http://www.stickam.com/hotmamitv