Long-time Stickam users might remember the story of Ghettosamii, whose death last year sent shockwaves throughout the entire network. But nothing really dies on the Internet—especially n00dz. And so it is that Ghettosamii's n00dz have come back to haunt us.


The above image was somehow leaked a few days ago, and has been spammed throughout Stickam LIves and chatrooms. Apparently Samii and Ivy, along with at least one other Stickam user, were having some drunk Private fun in August 2007, before Samii's death in November.
The subjects' age prevents us from showing certain screencaps. Please do not link the uncensored image in our comments; tinypic links are temporarily being blocked and others will be deleted.
As is our custom when posting n00dz—anyone's n00dz—we point out that on Samii's profile she wrote, "No I will not show you anything."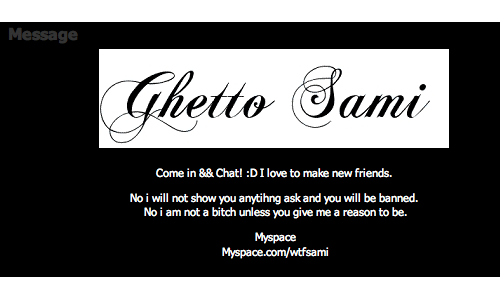 Samii's death was reported throughout the mainstream media due to the unusual circumstances surrounding her demise. Samii and 2 friends were driving a golf cart. Apparently Samii (who was at the wheel) did not notice an approaching train, which collided driver-side with the cart. Samii was instantly killed, and at least one of her passengers later died at the hospital.

News of the death spread like wildfire online, and triggered a wide range of "R.I.P." comments on Samii's Stickam profile; her Myspace profile is private and comments there are hidden from us. Most Stickam users expressed love and condolences. But a few were less kind, most notably Kiki Kannibal, who coldly suggested that Samii's death was a publicity stunt.
CLICK TO READ IN FULL RESOLUTION



Of course, there WERE several news reports of the accident. But Kiki, being her mother's daughter, just couldn't keep her damn mouth shut.


Kannibal-bashing aside, the most burning questions remaining are: Who took these caps; and who released them now, so long after her death? StickyDrama has been told that there were no more than 3 or 4 persons present in the private Live—it could have been Samii capping herself! Should that prove to be the case, StickyDrama might die of astonishment. One can die of less.
http://stickam.com/ghettosamii