A video that is rumored to depict RuPaul's Drag Race contestant Rock M Sakura completely naked (except for shoes, satchel, glasses and of course cellphone) and receiving oral sex, in public and in broad daylight, is being passed around on social media like coronavirus at church.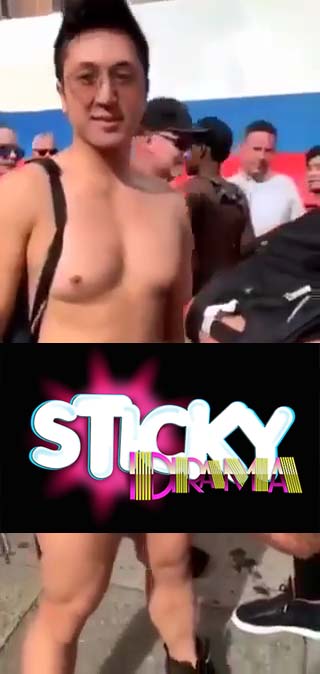 The 13-second video was supposedly recorded in San Francisco at the Folsom Street Fair, a notoriously raunchy gay pride event that even makes StickyDrama blush. Apparently, no RPDR fan website has posted the video or even reported it yet, although they all must be aware of its existence by now and probably possess it too.
StickyDrama is not posting the video, but we did watch it and can report that a man who looks exactly like Sakura stands somewhere outside and in daylight surrounded by people. A second man approaches Sakura, grabs Sakura's rice noodle, gives it a few sucks and then walks away. Sakura cooperates and even smiles at the camera during the entire clip. The shoe of the man slurping down the pho can be seen in the lower right of our censored screencap, and he's wearing a backpack that appears in the upper-middle right just above our logo.
StickyDrama tweeted to @RockMSakura requesting comment 3 hours prior to publishing this post, but received no response.
@RockMSakura The video of you getting your dick sucked in public, any comment? I followed you in case you want to DM. Posting soon so please reply immediately if you have anything to say.

— StickyDrama (@stickydrama) April 8, 2020

On that point, what StickyDrama can only describe as a conspiracy of silence is even more shocking than the video itself. Plenty of other bloggers and vloggers–particularly Jakeyonce, described by some as the "StickyDrama" of RuPaul's Drag Race–cover RPDR queens religiously and must be aware of this video. Yet not only have they not posted it, they even refuse to discuss or acknowledge it.  Maybe if we had smothered our tweet in bacon grease, Jakeyonce would have noticed it.
Speculation among RPDR fandom is that commentators and the queens themselves prefer to focus only on television-friendly petty drama, and avoid anything that would land on the front page of StickyDrama in order to avoid the loss of sponsorship and advertising dollars. Meanwhile, StickyDrama has a real job and can say whatever the fuck we want.
@jakeyoncetv Surely you're aware of the video of @RockMSakura getting a BJ on a public street in broad daylight. I don't regularly follow you but am told you haven't posted or even mentioned it. Is that true? If so, why?
— StickyDrama (@stickydrama) April 8, 2020
No response to that either, 2 hours prior to publishing this post. Don't worry, dear readers, StickyDrama has long been used to rejection. But Jakeyonce is definitely active on Twitter as we type, tweeting about nothing nearly as juicy as this story:
Thinking about fucking around and blocking all of the shitty gay magazines????

— jakeyoncetv (@jakeyoncetv) April 8, 2020

StickyDrama is well aware that people tend to get their feathers ruffled about posting n00dz nowadays. First of all, we did not post the video. Also, Sakura was standing totally naked on a public street where multiple observers are in the video's background; therefore, the video was never private. Sakura is also clearly aware of the recording, looking and smiling right into the cameraphone at times, so the whole nonconsensual argument doesn't apply here either. And he's a public figure, thanks to his time on Drag Race. Even in states with laws against so-called "revenge porn," the video is newsworthy for the shocking act as well as the individual involved.
The moral of today's story, dear readers? Gosh, that's a toughie. StickyDrama is going to go out on a limb and advise that if you don't want people to talk about your walking around naked and getting your dick sucked in public, don't walk around naked and get your dick sucked in public.