Amor Hilton didn't come outside her apartment to confront Kelli from Compton.  To hear Kelli tell it, Amor just kept peeking out her window until they left.  So Kelli and Ray Lancione and some other faggots and sluts ended up coming to StickyHouse.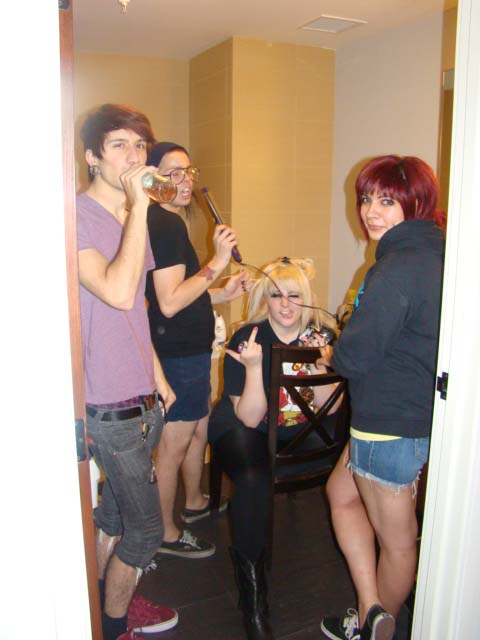 Also gracing us with his prescence was Alex Emergency, ex-boyfriend of Jay the Bi God, a former StickyDrama writer who left our team while on the run from the police for stalking some bitch.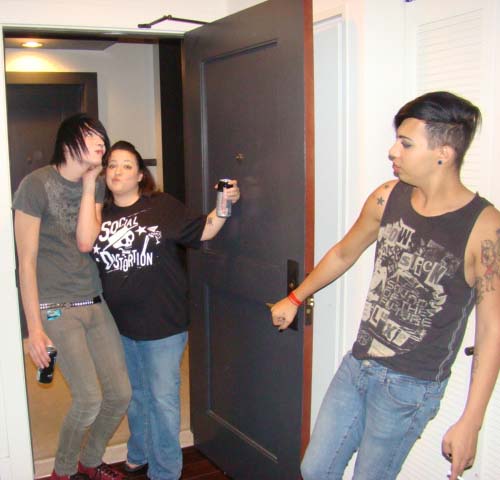 Towards the end of the night, StickyDrama ended up buttraping Alex.  We stole Jay's boyfriend, just like we stole his blog. 


Isn't life funny?
Oh.  And.  AND. Amor's ex Ryan Anchors couldn't resist entering the fray: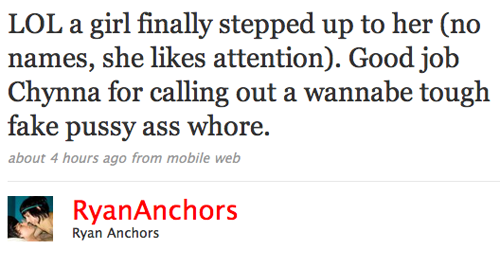 Ryan went so far as to forward StickyDrama Amor's Craigslisting emails:
 
tommorow day is fine where when
In a message dated 7/15/2009 5:39:20 P.M. Pacific Daylight Time, [email protected] writes:
babe i can host tomorrow during the day or night- sup to you. i have studio-time tonight =[
—– Original Message —–
From: [email protected]
To: [email protected]
Subject: Re: Rock'n'roll model leaving for warped tour for the summer… – w4m – 19 (d…
Date: Wed, 15 Jul 2009 13:01:51 EDT
are you available today can you host
In a message dated 7/14/2009 5:15:08 P.M. Pacific Daylight Time, [email protected] writes:
What's your number, I'll call you. If we go all the way (obviously
protected) how much can you donate to me? I know men prefer it over a
hand job. haha I don't think I'm doing my shoot anymore because I spent
all day cleaning so I'm just too pooped to go.
—– Original Message —–
From: [email protected]
To: [email protected]
Subject: Re: Rock'n'roll model leaving for warped tour for the summer… – w4m – 19 (d…
Date: Tue, 14 Jul 2009 18:26:02 EDT
what time tonight?
In a message dated 7/14/2009 2:32:13 P.M. Pacific Daylight Time, [email protected] writes:
We can do later tonight, I don't know how long you're up for… or tomorrow.
—– Original Message —–
From: [email protected]
To: [email protected]
Subject: Re: Rock'n'roll model leaving for warped tour for the summer… – w4m – 19 (d…
Date: Tue, 14 Jul 2009 14:23:30 EDT
so what time?
In a message dated 7/14/2009 10:54:44 A.M. Pacific Daylight Time, [email protected] writes:
Yes, i have a photoshoot at 6pm today so it'd have to be anytime after…
You really can't give me more than 100? =/
—– Original Message —–
From: [email protected]
To: [email protected]
Subject: Re: Rock'n'roll model leaving for warped tour for the summer… – w4m – 19 (d…
Date: Tue, 14 Jul 2009 13:48:52 EDT
okay will you do 100 in the car for a hj
In a message dated 7/14/2009 10:48:29 A.M. Pacific Daylight Time, [email protected] writes:
Im not comfortable with bj's to be honest. the car is fine.
—– Original Message —–
From: [email protected]
To: [email protected]
Subject: Re: Rock'n'roll model leaving for warped tour for the
summer… – w4m – 19 (d…
Date: Tue, 14 Jul 2009 13:45:54 EDT
would you consider doing a bj…is the car still okay
In a message dated 7/14/2009 10:41:44 A.M. Pacific Daylight Time,
[email protected] writes:
When I was living in downtown
l.a we agree'd it'd be in your car, just a quick and easy thing- I'm
now on Ventura Blvd in Encino. I would'nt feel comfortable doing
anything else unless the price tag was really high and I'm not here to
break anybody's bank.
—– Original Message —–
From: [email protected]
To: [email protected]
Subject: Re: Rock'n'roll model leaving for warped tour for the
summer… – w4m – 19 (d…
Date: Tue, 14 Jul 2009 13:36:40 EDT
can you do more where would we go
In a message dated 7/14/2009 10:09:38 A.M. Pacific Daylight Time,
[email protected] writes:
Yes I do… I'm in Encino. How much was your donation again?
I'll let you see my boobs and give you a handjob for 150 at least….
—– Original Message —–
From: [email protected]
To: [email protected]
Subject: Re: Rock'n'roll model leaving for warped tour for the
summer… – w4m – 19 (d…
Date: Thu, 9 Jul 2009 12:57:25 EDT
perfect do you still need money…lets meet today
In a message dated 7/8/2009 8:53:01 P.M. Pacific Daylight Time,
[email protected] writes:
encino now
—– Original Message —–
From: [email protected]
To: [email protected]
Subject: Re: Rock'n'roll model leaving for warped tour for the
summer… – w4m – 19 (d…
Date: Tue, 7 Jul 2009 21:53:37 EDT
are you in los angeles
In a message dated 6/9/2009 10:51:43 P.M. Pacific Daylight Time,
[email protected] writes:
Nope, it has to be the same deal.
—– Original Message —–
From: [email protected]
To: [email protected]
Subject: Re: Rock'n'roll model leaving for warped tour for the
summer… – w4m – 19 (d…
Date: Tue, 9 Jun 2009 16:03:46 EDT
yes but can i pick you up and bring you to my house for a while
In a message dated 6/8/2009 11:50:05 P.M. Pacific Daylight Time,
[email protected] writes:
What are you expecting? A HJ still for 150?
—– Original Message —–
From: [email protected]
To: [email protected]
Subject: Re: Rock'n'roll model leaving for warped tour for the
summer… – w4m – 19 (d…
Date: Mon, 8 Jun 2009 23:09:13 EDT
do you want to see me tonight
In a message dated 6/7/2009 2:25:35 P.M. Pacific Daylight Time,
[email protected] writes:
No I'm here till Tuesday now.
—– Original Message —–
From: [email protected]
To: [email protected]
Subject: Re: Rock'n'roll model leaving for warped tour for the
summer… – w4m – 19 (d…
Date: Thu, 4 Jun 2009 16:13:28 EDT
hey sorry it got too late ..have you left yet
In a message dated 6/3/2009 10:20:06 P.M. Pacific Daylight Time,
[email protected] writes:
> —– Original Message —–
> From: [email protected]
> To: [email protected]
> Subject: Re: Rock'n'roll model leaving for warped tour for the
> summer… – w4m – 19 (d…
> Date: Thu, 4 Jun 2009 01:11:06 EDT
>
>
> okay when will you be ready….can you send me another picture or
two
>
>
> In a message dated 6/3/2009 10:08:29 P.M. Pacific Daylight Time,
> [email protected] writes:
>
> You can park in the parkinglot in front of my building, the valet
guy is
> off for the night.
> > —– Original Message —–
> > From: [email protected]
> > To: [email protected]
> > Subject: Re: Rock'n'roll model leaving for warped tour for
the summer…
> – w4m – 19 (d…
> > Date: Thu, 4 Jun 2009 01:06:43 EDT
> >
> >
> > yes ..how long wil you hang out…..do you know a place we
can park..i
> dont
> > know downtown
> >
> >
> > In a message dated 6/3/2009 10:03:49 P.M. Pacific Daylight
Time,
> > [email protected] writes:
> >
> >
> > really good handjob is good enough?
> >
> > > —– Original Message —–
> > > From:
[email protected]
> > > To: [email protected]
> > > Subject: Re: Rock'n'roll model leaving for warped tour
for the
> summer…
> > – w4m – 19 (d…
> > > Date: Thu, 4 Jun 2009 00:57:46 EDT
> > >
> > >
> > > how is 150
> > >
> > >
> > > In a message dated 6/3/2009 9:54:42 P.M. Pacific
Daylight Time,
> > > [email protected] writes:
> > >
> > > how much is being generous? I don't do oral, I don't
want a dick in
> me
> > > because i've been raped before and
> > >
having sex with strangers will make me cry not turn me on. I can only
> > give
> > > you a hollywood handjob at the
> > > most.
> > > > —– Original Message —–
> > >
> From: [email protected]
> > > > To:
[email protected]
> > > > Subject: Re: Rock'n'roll
model leaving for warped tour for the
> > summer…
> > > – w4m – 19 (d…
> > > > Date: Thu, 4 Jun 2009 00:46:03 EDT
> > > >
> > > >
> > > > yes i read that but thought you might like me and
we could play
> > …what
> > > do
> > > > you have in mind….like i said i will be generous
> > > >
> > > >
> > > > In a message dated 6/3/2009 9:45:16 P.M. Pacific
Daylight Time,
> > > > [email protected] writes:
> > > >
> > > > not read?
> > > > I said i'm not a prostitute.
> > >
> > —– Original Message —–
> > > > >
From: [email protected]
> > > > > To:
[email protected]
> > > > > Subject: Re:
Rock'n'roll model leaving for warped tour for the
> > > summer…
> > > > – w4m – 19 (d…
> > > > > Date: Thu, 4 Jun 2009 00:37:55 EDT
> > > > >
> > > > >
> > > > > In that case some quick play in the car..do
you like giving
> oral?
> > do
> > > you
> > > > > have another picture?
> > > > >
> > > > >
> > > > > In a message dated 6/3/2009 9:37:16 P.M.
Pacific Daylight Time,
> > > > >
[email protected] writes:
> > > > >
> > > > > What did you have in mind? I can't host I have
roomates.
> > > > >
> > > > >
> > > > > —– Original Message —–
> >
> > > From: [email protected]
> > > > >
To: [email protected]
> > > > > Subject: Re:
Rock'n'roll model leaving for warped tour for
> the
> > > > summer… –
> > > > > w4m – 19 (d…
> > > > >
Date: Thu, 4 Jun 2009 00:35:03 EDT
> > > > >
> > > > > I understand completely can you host tonight?
I can come right
> now
> > or
> > > we
> > > > > can use my car to play for a little while if
that works for
> you..i
> > > can be
> > > > > generous
> > > > >
> > > > >
> > > > > In a message dated 6/3/2009 9:32:52 P.M.
Pacific Daylight Time,
> > > > >
[email protected] writes:
> > > > >
> > > > >
> > > > >
> > > > > Hi! I'm Amor.
> > > > >
First of all, I'm def not a prostitute just a struggling model
> > > looking
> > > > for
> > > > > some financial help so i can buy my cigs/food
on the road! I
> hope
> > you
> > > > > understand. I attached pictures.
> > > > >
> > > > > xox
> > > > >
> > > > > —– Original Message —–
> >
> > > From: [email protected]
> > > > >
To: [email protected]
> > > > >
Subject: Rock'n'roll model leaving for warped tour for the
> > > summer… –
> > > > w4m
> > > > > – 19 (downtown
> > > > >
Date: Thu, 4 Jun 2009 00:24:57 EDT
> > > > >
> > > > > ** CRAIGSLIST ADVISORY — AVOID SCAMS BY
DEALING LOCALLY
> > > > > ** Avoid: wiring money,
cross-border deals, work-at-home
> > > > > **
Beware: cashier checks, money orders, escrow, shipping
> >
> > > ** More Info: _http://www.craigslist.org/about/scams.html_
> > > > > (http://www.craigslist.org/about/scams.html)
> > > > >
> > > > >
> > > > > If your still available i would love to spoil
you..send pic and
> > > info are
> > > > > you ready now
 
 
http://twitter.com/AmorHilton
http://twitter.com/lancione
http://twitter.com/AlexIzon
http://twitter.com/RyanAnchors