What you are about to read is like nothing less than watching Kiki Kannibal and Amor Hilton don big, thick strap-on dildos and double-assfuck the bejesus out of Jake Wolf. With only StickyDrama's spit for lube.
A little while ago, Kiki briefly left the internet—presumably in need of a break from all e-drama surrounding her breakup with Jake.  Yesterday she returned, and her first act of Kikiness was to bitchslap Jake right in the kisser on Formspring.  Good thing we screencapped his response real quick, because Jake—who claims to regret nothing—apparently regretted responding to her and deleted the exchange from his account.
CLICK TO READ IN FULL RESOLUTION:


No doubt Kiki was reacting to StickyDrama's own tweets, in which we informed Jake that Amor was giving everyone over here at StickyHouse a good laugh by reading aloud his cheesy desperate txt messages to her.  Later, Kiki claimed her Formspring was *ahem* hacked, but it sure looks fine to us now.
We relayed Jake and Kiki's drama to Amor, who used to be interested in Jake until she saw what an absolute fool he made of himself for Kiki.  Now she thinks he's a douche.  "You know he txts me every day—I just got another one 12 minutes ago, and I haven't replied to him AT ALL since he was with Kiki, except that one morning when I woke up still barred out and replied to the first txt I got, which was his," Amor told us Sunday while waiting for her fourth coat of makeup to dry before applying the fifth.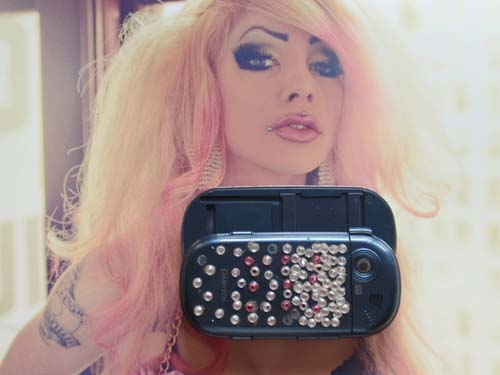 See that tacky plastic thing?  No, the one below Amor's face.  That's Amor's phone.  Amor gave us permission to read and photograph Jake's txt messages to her.  (Her phone can't take screenshots.)



And there, dear readers, is the internet equivalent of Jake Wolf on all fours, tears streaming down his face, with two gigantic strap-ons buried up to the plastic hilt in his bloody and quivering asshole—one worn by Kiki, one by Amor, while StickyDrama holds the camera and tells the girls to fuck him harder so that he'll moan like the desperate e-whore he is.
Silly Jake!  Thinking you could hop from Kiki to Amor.  They have annihilated every boy before you—recall Hock and Cespedes—and they will annihilate every boy after you.  Either one of them could destroy you with a tweet.  With a click.  With a thought.  You are nothing and they are everything.  Your body might remain alive IRL; but online you are henceforth dead, a shadow, a ghost, doomed to fuck only the loose scabby vaginas of ugly sluts like Jenny Thompson, never again the tight moist vaginas of attractive e-celebs like Kiki and Amor.  This is the curse we inflict upon you.
That, plus we've made "Jake Wolf" a sub-category of our lol-cows category too.  Nyah!
http://twitter.com/jakefuckingwolf
http://twitter.com/mmmkikikannibal
http://twitter.com/amorhilton