Brandy Suicide, whom no one could accuse of having too many friends, last night had an online catfight with none other than the Queen of Mean, the Quick-to-Kick, and the Most Hated user on Stickam as voted by StickyDrama readers, Kiki Kannibal.



The drama exploded when Brandy called Kiki's cellphone as she was the host of Kayvon Zand's LIve, in contravention to Stickam TOS but apparently with Kayvon's approval. As the two young ladies exchanged pleasantries, Brandy's aesthetically challenged gal pals KATIESTAR and ScarahTerror! passed around Kiki's cellphone number via PMs to several people.
Kiki was soon hit by a barrage of calls, during all of which her call waiting signal beeped incessantly. It did not take long for drama instigators to tell Kiki that her new number had been leaked by Brandy. Kiki's reaction was swift and furious: "I'm gonna report that fat bitch to Andy … and I'll get her banned." Brandy shook off the threat, adding in a cavalier tone that she has already been banned 7 times.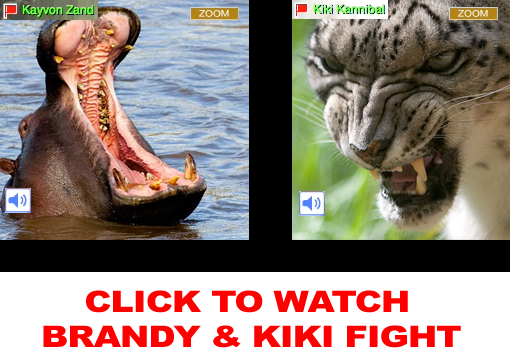 The evil delight of listening to Kiki's venomous insults drew several gossip-loving cocksuckers into the room, including spamgod Matthew Lush and unemployed transexual Anthony Vanity, neither of whom seemed offended by Kiki's frequent declaration "I hate faggots." Kiki expressed bewilderment and confusion that a human being could give birth to something as ugly as Brandy; Brandy for her part made several interesting assertions regarding the cleanliness of Kiki's vagina. Towards the end the two appeared to reach a rapprochement when Kiki wished to see Brandy stand up and dance on cam in order to "see her fat lard," a request in which Brandy acquiesced.
StickyDrama began recording as soon as we noticed that Brandy was on the phone with Kiki. When we began, Kiki's cam was black for a minute, and StickyDrama was recording only Kiki's audio; Kiki was at that time on the phone with Brandy on loudspeaker. After the call ended, we recorded the audio and video of both girls. The video file is large, and might require several minutes to download depending on your internet connection.
http://www.stickam.com/profile/kikikannibal
http://www.stickam.com/profile/kayvon
http://www.stickam.com/profile/brandy45205
http://www.stickam.com/profile/scarahfiend
http://www.stickam.com/profile/katiestarrrrr