John Hock has done what no other person had been able to do:   He got his own Stickam account permanently banned.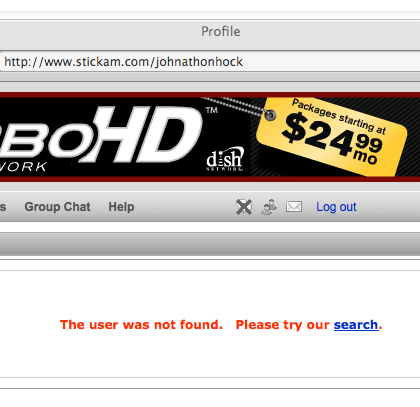 Earlier today, as he was drinking alcohol and flirting with pyromania, Hock thought it would be cute to engage in some on-cam oral sex with a female guest.  He also appeared naked, albeit cupping his unimpressive sexual equipment with his hands.


Stickam Admins didn't see the humor.  While there seems to be some debate as to whether the oral sex was simulated or genuine, his account was banned early this morning.  StickyDrama's usual sources inside Stickam's headquarters say that employees all had a good laugh at Hock's misfortune, and they have no intention of restoring the whiny no-talent statutory rapist's account.  Moreover, Hock's campaign to bombard Stickam with demands to restore his account has, if anything, only further annoyed the staff and increased their resolve to keep his profile banned.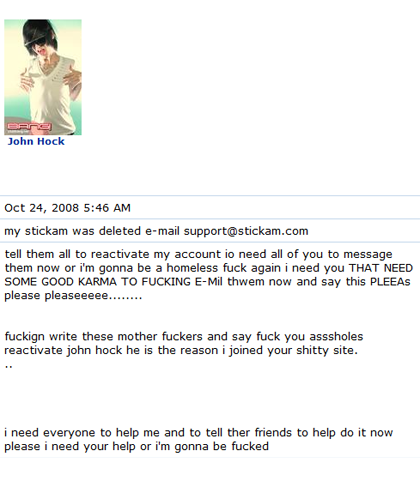 As happens with any banned account, Hock no longer appears in Stickam's rankings.  All his previous hard work has been erased forever, as if he had never accomplished anything.



Shortly after the ban, Hock's roommate Johnny Death came into our chatroom.  Johnny, whom no one would accuse of having an abundance of brains, pled with StickyDrama and Anthony Vanity to use our connections inside Stickam to have Hock's account restored.  We couldn't have replied more venomously than Anthony, although our grammar would have been a tad better:



Johnny claimed that Hock was "crying" and would soon be "homeless" without his Stickam profile, which is his bread and butter.  Hock used the account to send traffic to his "Picture Your Prize" website, a rigged contest whose winners were selected according to the favors the did in return for Hock.  "Picture Your Prize" is owned by Hock's gay sugardaddy, Tom Zina, as StickyDrama reported in July.
Furthermore, Johnny claimed that Hock was packing his suitcases and moving back to Arizona, presumably to live with Jenna Hock, his adoptive mother.  Oh yes—did you notice that link?  Jenna Hock does indeed have a Myspace account where readers can find links Hock's adoptive siblings, who come in a wide assortment of colors.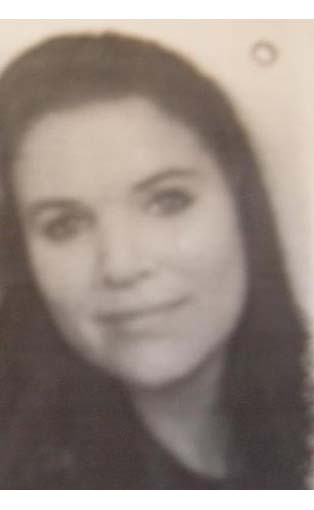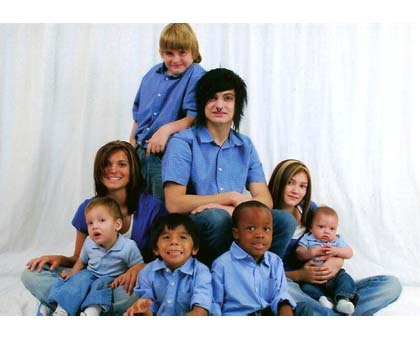 And our personal favorite: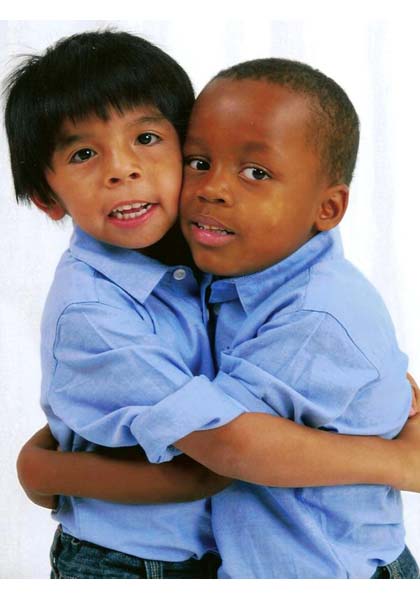 By all accounts, Ms. Hock is ashamed of her son.  She said so herself in a Myspace message to the statutory rapist, written after Ownage Pranks called and convinced her that John had died–a cruel prank executed at John's request.
CLICK TO HEAR OWNAGE PRANK HOCK'S MOM
After that call, Hock's mom wrote this: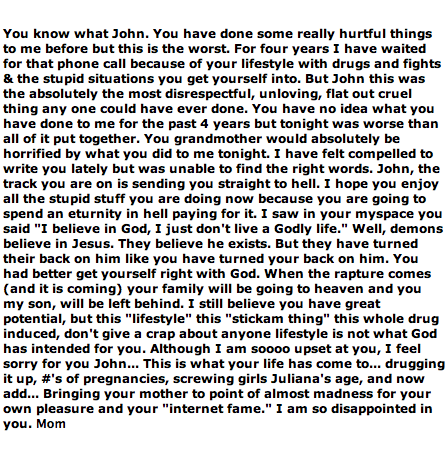 His mother's above message and subsequent phonecalls (during which the self-professed "Jesus freak" is rumored to have told her son to die and burn in hell) took their toll even on a worthless emotionally under-developped slimeball like Hock.  He broke down on cam during one of his shows:
The black moments are actually Hock turning off his cam to hide his tears.  He did have the fortitude to plug "Picture Your Prize" inbetween sobs.
Whether Hock indeed will return to Arizona, or attempt to rebuild his viewership is unclear.  Despite Johnny Deaths's claim that Hock was abandoning his dreams of online fame and fortune, Hock apparently created a new account later this afternoon, with a slightly modified URL.  As of this post, the account had 25 friends and 0 total live views.  Just for lulz, StickyDrama shall forever henceforth link only his original banned profile.
Congrats on winning our "Keep Hock Off the Air" contest, John!  Like our new banner?
http://stickam.com/johnathonhock