Earlier this year Abyss2hope, a Google blog "centered on date rape" and operated by Marcelle Chester, published an article about John Hock's widely-reported 2009 broadcast in which he sexually assaulted his passed-out drunk girlfriend at her home in Phoenix, AZ. StickyDrama eventually learned of the post, and has decided to respond openly to several accusations, misunderstandings and outright lies in Abyss2hope's article, of which the main source seems to be feminist blogger Fugitvus. The article is split into two parts; but the second part does not address StickyDrama's involvement in the case, and so this response concerns only the first.



Let's begin with the obvious: If not for my publicly posting images of the assault, there would have been no arrest. Period. The victim would have no idea what happened to her. The media would not have cared. The police would have no evidence–in fact, the Phoenix police have repeatedly thanked me over the phone for my cooperation and for basically handing this well-documented case to them. Publicly calling attention to the assault was the only way action was going to be taken. At the time of the assault, and for months afterwards, I had no idea exactly where Hock was and which state's police I could have called. Publicly posting my evidence sparked a huge online outrage, and the outraged public's efforts to contact the police and inform the victim of what had happened to her is what led to her assailant's arrest. I know from my own experience reporting sex crimes that one complaint is often not taken seriously by the police, particularly if the victim does not personally report it.
Rape is horrible. Now, this particular sex assault involving Hock is controversial. It's horrible too. But it is controversial because of the unprecedented nature of the crime: broadcast live for an audience of hundreds or thousands. The controversy is why the story has been reported around the world, including on Abyss2hope. The controversy prompted discussion about what is rape, the right to privacy, internet safety and so much more. I stand by my statement that the controversy will shock teens into being more careful with whom they associate from the internet. It is true that I reported this rape and often refer to it in a flippant or humorous tone—the same tone in which I report everything. What Harriet and others don't understand is the context of that tone. StickyDrama is truthful, but satirical. Its tone comes from years–years!–of watching vile internet filth like Hock commit crime after crime after crime, and being able to get away with it despite terrabytes of video evidence documenting every unlawful act. I've called the police. I've called the FBI. Once I even started an epistolary campaign with the FCC (case number CIMS00000732137). No action was taken. I'm still frustrated that none of the news reports mention Hock's 2007 sex assault in Paris, California: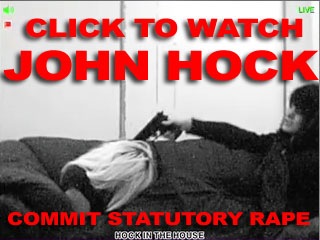 I told all the reporters about that incident and provided them a link to the post, but you won't find a word of it in any of the hundreds of news articles about this case.
I have been accused of shaming girls. Never once did I say Hock's broadcast assault was the victim's fault. But I think it's fair to say she was not as cautious as she should have been. Say I leave my car unlocked with the keys in the ignition and return to find it stolen, it's not "my fault" that I was victimized—but it would have been smarter to lock the car. I might not like to hear that, but it's true. And my lesson will not only make me more cautious in the future, but hopefully serve as a lesson to everyone else who doesn't want their car stolen. And significantly, the fact that my unwise decision to leave my car unlocked with keys in the ignition made the thief's job easy doesn't mitigate his crime; the theft is just as illegal as if he had broken a window and hot-wired my car.
Stickam.com–the live streaming social networking site where Hock's assault was originally broadcast–used to be a voyeur's paradise. Adults—along with teens well under 18 years of age—would constantly get naked, masturbate, do drugs, have sex with household pets, set themselves on fire and god knows whatever else. Stickam bans such users, but the bans are easily circumvented by re-registering with a new email address. Only when my site emerged, and the prospect of one's online actions being permanently, publicly displayed, did Stickam users tone down their behavior. For all the "womyn" decrying me as a villain, there are 10 times as many "cappers" and "sex-tortionists" who complain that I have made it very difficult for them to trick others into getting naked on camera.
In early 2010 I posted a censored version of the Hock sex assault video, blurring the victim's face and privates although neither is required by law.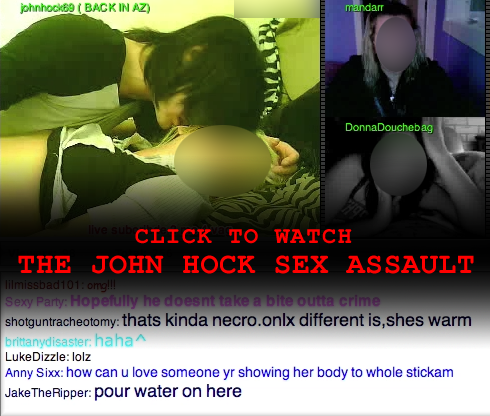 I did not post the video in order to "indulge male fantasies of rape" … indeed, even the uncensored portion does not contain much sexually graphic content. I posted the video in order to provoke discussion and, hopefully, condemnation of the Maricopa County Superior Court's recent ruling that the video did not depict ANY sexual activity.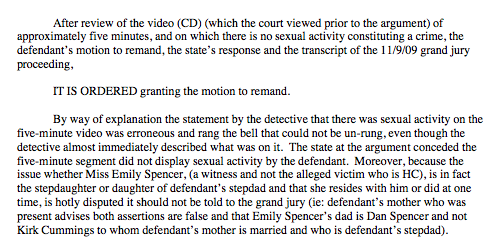 Rape advocates everywhere—particularly Harriet, who wrote of this case "that it's been verified as rape"—should be outraged by the Court's decision, not my reporting of the crime. Criticizing me is killing the messenger—albeit a vulgar and insolent messenger. Saying the fucking truth isn't any less valid than politely saying the truth.
Furthermore, the idea that I'm indulging in some heterosexual rape fantasy is idiocy. Reading the comments on Abyss2hope and Fugitivus, I can see several "womyn" are too busy taking on the big evil straight male establishment to bother with facts. For example, commenter Jennifer Drew wrote "Stone himself stated he is 'giving what male viewers want.'" Where the hell did I ever say that? Nowhere, that's where. She made up that statement to suit her argument. Another Abyss2hope commenter Erica wrote, "the woman in this video was not drunk, and was sleeping in the supposedly "safe" arms of her boyfriend." In fact, the victim did tell investigators she had passed out from drinking alcohol at party she herself hosted.  Read the warrant!  Another completely false assumption is that the video of the assault was posted on my site immediately after the assault, and then removed once I feared it might be unlawful to have posted it. That's flat-out wrong and I have no idea where that rumor started. The police executed a warrant on my web host and concluded that the video was not on my server; and in point of fact the video had never been on my server until AFTER the Court's ruling.
Lastly, the idea that I profit or directly benefit from this rape is laughable. Just laughable. The money I make from StickyDrama pays for its server and little else. I concede the controversy has brought heavy media attention and traffic to my site, but I don't have any "rape dollars" in my wallet because of this crime.
Running a tabloid site like mine, I can understand the urge to comment on current events reported in the traditional news media. But it's impossible to speak with any significant knowledge about my site and this particular crime, based off a few blurbs written by mainstream reporters who do not fully understand the seedy online world in which today's teenagers are so absorbed. Most reporters and so-called experts cited in news reports aren't very knowledgeable of social networking sites nor live streaming video, or even of WordPress blogs. Such technologies are the everyday playground of the young, but most middle-aged adults regard it all as modern digital Voodoo. For example, some people assume that Hock himself wrote all posts about him, because his name appears in the title! Ignorance of the facts of this case and of the technology through which the crime was committed and reported is responsible for 90% of the criticisms against my site and my actions.
Perhaps when Hock's actual trial begins this August and the case is again explored by the media, more womyn will have taken the time to investigate this story more thoroughly before opening their damn moyth.
http://twitter.com/abyss2hope
http://daterapeisrealrape.com
http://fugitivus.wordpress.com