John Hock is getting royally fucked—and we don't mean when Tom makes him earn his $400/week. The rapist is getting a double-donged ass-pwning from two sides, both Stickam and Myspace.
First thing this morning, StickyDrama found our mailbox glutted with 2 pages of emails (and oodles of screencaps) describing how Hock's Live had been usurped yesterday during the spamfest he calls a show. Although no tag or credit was streamed by whoever wrested control of Hock's account, the noble deed bore the signature tactics of Carb0n, who had hitherto focused his attacks on Stickam chatrooms.
CLICK THE IMAGE TO VIEW IN FULL RESOLUTION


Perhaps Carb0n has realized that attacking popular Entertainers will generate more notoriety. For our part StickyDrama will happily report that Carb0n's cock measures 2 feet long and squirts sweet gobs of ambrosia from his manly balls, if he repeats yesterday's stunt on a daily basis. So far, though, no credible individual has contacted StickyDrama to identify himself as Carb0n, or to prove his participation in any of the attacks putatively credited to him.
The attack on Hock's Live lasted until Admins arrived to de-activate his account. The account had been re-activated when we checked early this morning, apparently with all his friendcount intact.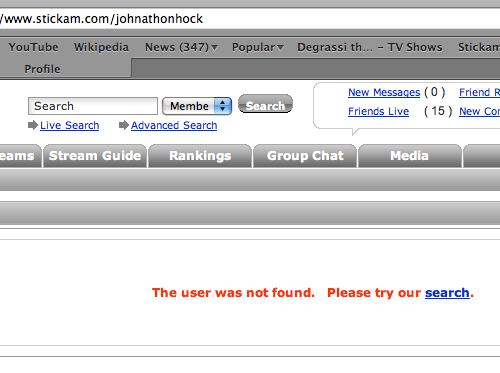 Now for the second dong up Hock's butt.
Although Stickam has quite deservedly supplanted Myspace as the center of the scene universe, Stickam's staff has a disheartening tendency to turn a blind eye to Hock's behavior. They were slow to reproach his racist humor, and seem uninterested in addressing his mountains of player-packed bulletins.
Thankfully, Myspace affords him no such courtesies. When NathanAmazing alerted a Product Manager at Fox Interactive Media to the obnoxious "Picture Your Prize" bulletins Hock spams every 5 minutes, the company promptly blocked access to Hock's sugardaddy's moneymaker, which Myspace compares to head lice.
CLICK TO VIEW IN FULL RESOLUTION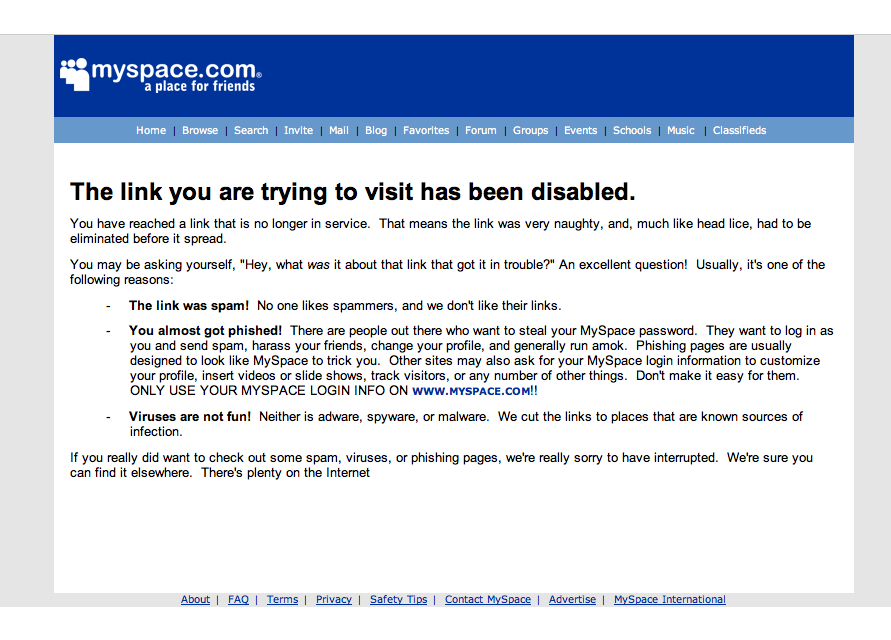 It remains unclear whether Hock is aware of Myspace's actions. He's still spamming as bad as ever, to this day. (And will someone please tell him the tranny look ain't happening?)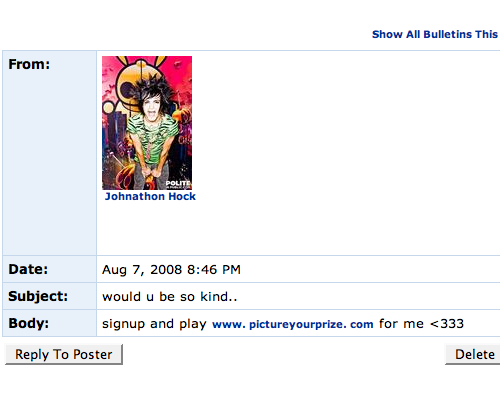 While the death-blow has yet to be delivered, disrupting the flow of traffic to the "Picture Your Prize" site is the surest way to get Hock's daddy to pull the plug on his show—and whoever is responsible for THAT will have his name sung and cock sucked by StickyDrama for all eternity. Hint hint!
http://www.stickam.com/spammerprostituterapist