The recent pornographic attacks on Stickam's chatrooms and LIves are increasing in both their frequency and obscenity, and the company's web security officer seems unable to close whatever vulnerability the attackers are exploiting. StickyDrama was visiting the Gay & Bi chatroom when we managed to screen-record the latest round of mischief.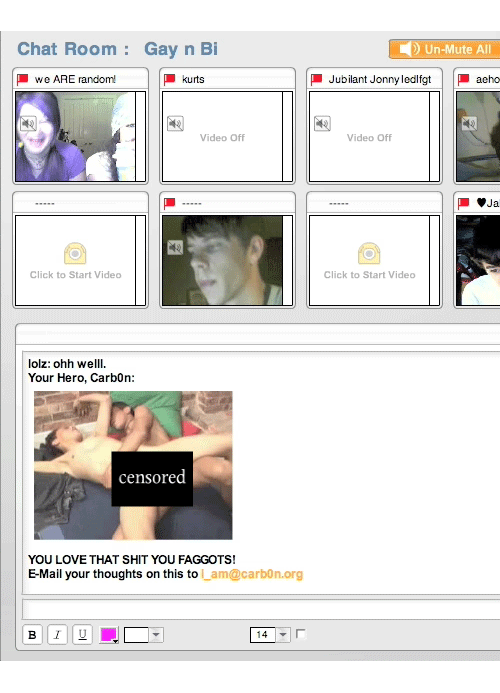 While initially StickyDrama was amused by the naughty little clips—we almost never complain about cock on Stickam—last night things went too far. Whereas before reloading the chatroom ended the attack, now reloading does not resolve the problem. To rid our own room of attackers, it was necessary to kick all users we did not know—pretty much all but a dozen or so regulars—and then reload. In this regard StickyDrama fared much better than other large rooms such as Gay & Bi, Show N Tell and Singles Chat, who had fallen far down the chatroom list; as of this post the other large rooms have not fully recovered their usual traffic.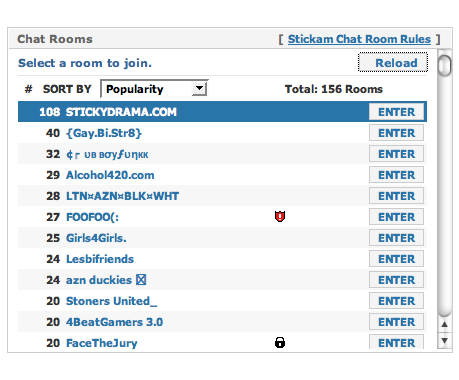 Being the only large chatroom has its headaches, namely the constant onslaught of spam—especially the dreaded "white space" spam. While we're on the subject of security, and hopefully have the attention of someone in a position to improve the status quo, may we humbly suggest 3 improvements to combat spammers and other rogue users:
Enable chatrooms to ban users, even when they're not in the chatroom. Unlike Lives, chatrooms cannot ban users; chatrooms should have a ban list too. (Giving chatroom hosts the option to turn PMs on or off would be nice too.)
Limit the number of lines of text or code users may post in main chats. No one except a spammer would use 50 lines text! Five lines should be more than enough for anything that anyone has to say.
For both chatrooms and Lives, hosts should be able to lookup statistics of which mod kicked which user, and when. This would enable hosts to identify which of their mods' accounts had been usurped by another user—usually to kick a room empty. Hosts should have a "mod list," much like a ban list, and be able to de-mod a user even if they are no longer in a chatroom or Live.