"Flowers," John Ruskin wrote in the Victorian Age, "seem intended for the solace of ordinary humanity." How sophisticated our aesthetics have evolved, over a century later in the Digital Age, when nothing raises our spirits like unretouched photos of the so-called beautiful people.
For our part StickyDrama can scarcely imagine the profoundly uplifting effect on the masses triggered by this most unflattering image of Raquel Reed, who apparently was photographed in the midst of removing her many coats of makeup.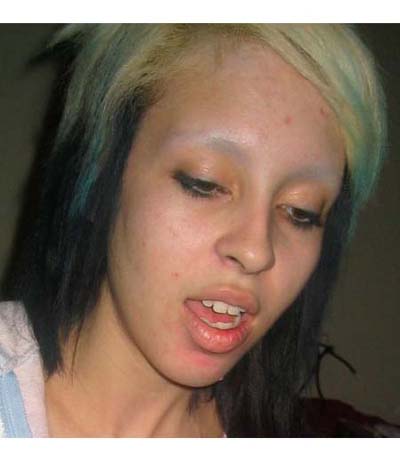 For those readers unfamiliar with popular Myspace personalities, Raquel is a professional makeup artist who has made somewhat of a name for herself online as an aspiring model.



Her onstage appearance at Bamboozle confirmed she was once again part of the exclusive Jeffree Star-Chris Crocker clique, comprised of cocksuckers and bimbos famous for doing nothing in particular.

http://www.myspace.com/ewraquel