Stickam unveiled yet another, less "busy" layout this week, which is much easier to navigate but not very visually appealing. StickyDrama was most interested in the Rankings, which simplies how users are compared at the expense of being an abortion of graphic design. In particular we were struck by the top 3 users:



Our objections to idolizing the boring t-shirt selling cocksucking spamgod are already well documented, and we shall not expound upon them here. LIkewise we shouted at the top of our lungs that chart-topping BBB8 has been illegally distributing unlicensed content stolen from the Brazilian media conglomerate Glogo.
Now it is officially time to add JFSC feat. Eric the Actor to StickyDrama's pet peeves. If viewers wish to be entertained by midgets, fine; there are other midgets on Stickam who are far more entertaining and mobile than Eric. Like Porcelain Doll, a 21-year-old female goth midget who this week had sex on cam with her normal-sized boyfriend.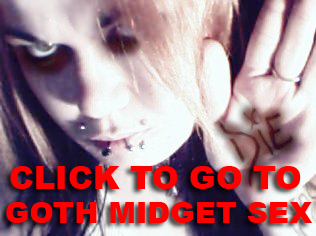 http://www.stickam.com/spamgod
http://www.stickam.com/jfsc
http://www.stickam.com/bbb8