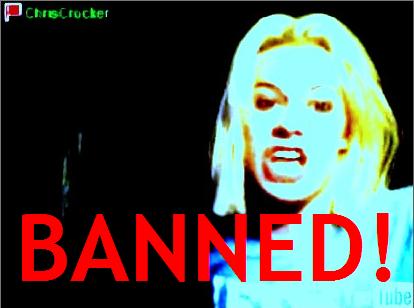 That is right…its no longer the cat fight of Johnny Boy vs. Crocker. Now they find themselves on the same team up against Stevie Ryan, her hubby Adam Paranoia and perhaps Stickam itself.
When we posted Chris Crocker's sock dance video we didn't even bother to blur out the name on his cam thinking that there was no way Stickam would ban him. Especially over such a relatively mild video. As we saw in October 2008 with John Hock, Stickam will simply not tolerate violating their Terms of Service even if you are a Stickam celebrity as was Hock. However with Crocker, he seemed to have had a more flexible agreement with Stickam and they would keep him off the front page knowing he was simply more wild and there was not a damn thing they could do about it. However it seems Crocker may have fatally crossed that line with the now famous sock dance, earning a ban on his account. The issue in question is what caused that ban? Its not certain if it was the sock dance or perhaps as Crocker says, a sinister plan by his ex friends. On Saturday Crocker came to find his account had been banned and began his investigation into what had happened.
Chris' first stop was Stevie Ryan's LIVE. Stevie was busy getting her hair did with Adam. As Crocker lurked, someone in Stevie's room brought up the topic of Crocker's ban and Adam reportedly said something to the degree of 'Awww poor baby, he will have to make another account', words which sent Crocker into his rage. Crocker entered the room and expressed his anger. Adam's words caught Crocker off guard as he had thought that the three were friendly and hoped they would help re-instate his account.
Next stop was Johnny Boy's Saturday LIVE, where Crocker launched his conspiracy theory that his profile ban was the influence of Stevie Ryan on her boyfriend (and Stickam Employee) Adam Paranoia. Anthony Vanity was there to record the drama for posterity. Who better to hear the summary from than Crocker himself?
Interestingly Crocker admitted to having previously helped convince Adam to ban Johnny Boy, which helps explain his paranoia that somehow the same may have now happened to him. Crocker's admission of this is important because it demonstrates again (as many theorize) that Stickam may have an administrative environment of favors and perks for simply knowing employees. If it were true that Adam acted upon the influence of his girlfriend to ban Crocker, would that be an acceptable policy for Stickam to let slide?
Crocker and Johnny boy have both stated possible plans of moving their shows to crappy ass BlogTV over this incident. A move we think would make their shows 100,000% less enjoyable.
Update: Stevie Ryan Responds.