Wired Magazine and G4TV both reported that teenage hacker James Robert Black Jr, better known by his online sobriquet Defiant, was indicted by a federal grand jury this week for his role in temporarily redirecting Comcast's traffic.  Rather than hack Comcast's server's, Defiant and his partners hacked Comcast's DNS server.  A copy of the full indictment is here.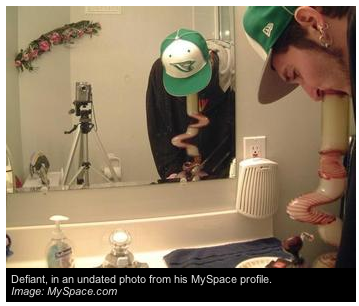 StickyDrama got a chuckle out of Defiant's quote, which curiously was not printed in Wired: "I slept in my clothes, because the last time they came, I was in my underwear with my dong hanging out and shit."
We furthermore could not help but notice the "shoutz" Defiant made to Coll1er, aka Too Live (whose legal name is Cody Collier) on the Comcast redirect.



Though he's been trying to keep himself off the radar, oldschool Stickam users remember the days when Coll1er hacked the bejesus out of the live streaming social network, ultimately receiving a Cease and Desist letter from the company.  Though Defiant never wrought the havoc on Stickam that Coll1er did, he would make occasional low-key appearances in chatrooms and Lives.
http://www2.stickam.com/1337