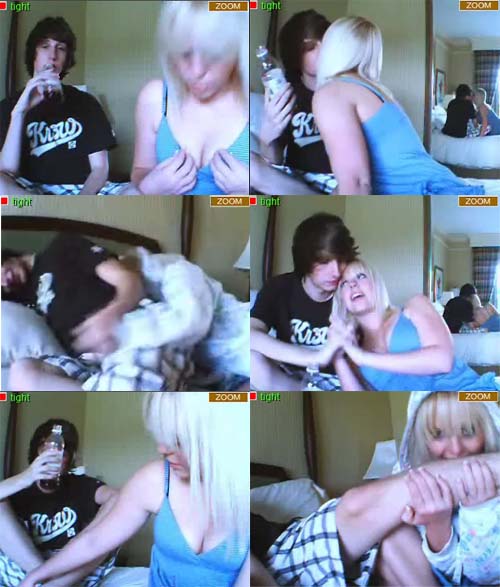 Like many teenage couples, Pretty Nicki and Too Live leave each other disgustingly cute love notes.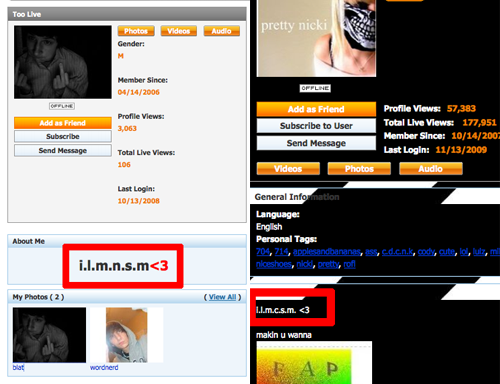 [mature translation: I love my Nicki/Cody so much]
Also like many teenage couples, sometimes they have public quarrels. Such as when Cody was upset that Nicki hooked up with the late TL.


But what makes this teenage couple unlike other teenage couples is one eyebrow-raising fact: One of them is not a teenager.
Nicki is a 27-year-old single mother dating 17-year-old Cody Collier, better known by his online sobriquet Too Live. Former friends of theirs familiar with their relationship informed StickyDrama that the couple became intimate when Cody was just 14 or 15 years old. At the time, then-25-year-old Nicki had just ended her relationship with then-18-year-old d0w. While the hackers and script kiddies who comprise Nicki and Cody's circle of friends have no great respect for the law, the illicit and unwholesome nature of the relationship created tension between Nicki and those old enough to know better—which is to say, everybody but Cody.


At first, Nicki did care what people said. So much so that she denied any relationship with Cody beyond platonic friendship. When asked what happened when she visited him, she claimed "absolutely nothing" sexual occurred.



But recently StickyDrama was sent irrefutable proof of Nicki and Cody's sexual relationship. "Absolutely nothing" apparently includes making out in bed and grabbing each other's tender naughty bits through their underwear. Their hair in disarray, their few clothes disheveled—wonder what they were up to?
[kaltura-widget wid="ruh38omno4″ width="410″ height="364″ addpermission="3″ editpermission="3″ /]
Confronted with the video, Nicki changed her tune real quick. She admitted to a romantic relationship with the teenager, but still she would have us believe they don't have sex.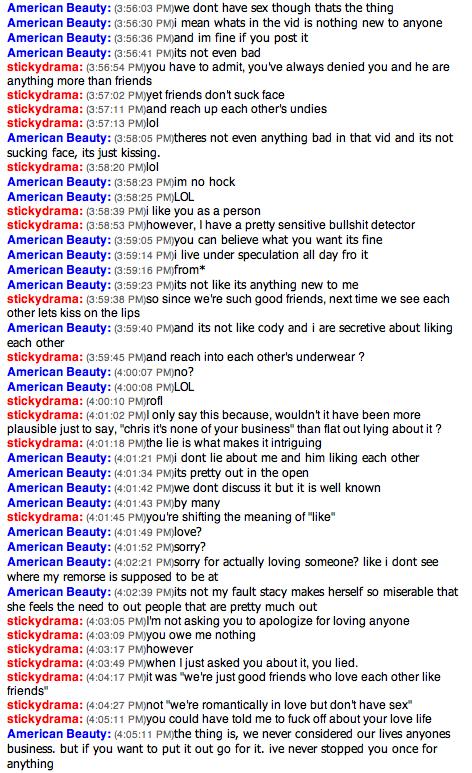 The video was recorded July 5, 2008—the day after Cody's 16th birthday, according to person who recorded the video. The age of consent in North Carolina—where Cody is known to reside—is 16. Hence, the video does not depict unlawful sexual conduct.
However.
Looking at the video, it's quite clear the two are very close. StickyDrama wonders just how close they were BEFORE the day Cody turned 16. And we wonder whether there exists any evidence, such as plane tickets or photographs, placing them together in North Carolina prior to July 2008.
Another consideration is this: While in North Carolina it is perfectly legal for Nicki to reach under the covers and pway wiff widdle Cody's itsy bitty widdle maaaaan, in California it is not. Cody still has not attained 18 years of age, the age of consent in California; sex between Nicki and Cody in California would be statutory rape. So we can't help but wonder what exactly Cody and Nicki do to pass away the time when he's staying at her apartment in Southern California, like when this photo was taken: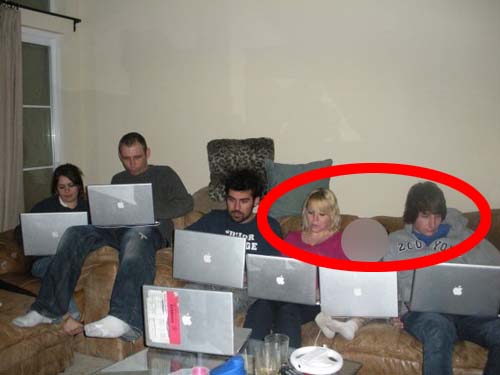 Our readers will furthermore notice a blurred region in the above image between Nicki and Cody. StickyDrama applied the blur in order to hide the identity of Nicki's 4-year-old son. Her son's appearance in the photo leads to other significant questions: Are Nicki and Cody intimate in her son's presence? Does her son see his mother's relationship as normal or ideal? Will her son's sexuality be influenced by his mother's behavior? Will her son seek out 14- or 15-year-old girlfriends when he is in his late 20s? How does her son's biological father feel about the situation? And most importantly, exactly how big is Cody's h4x0r p33n?
Interestingly enough, sources close to the couple suggest that Cody is the breadwinner. Using his hacker skills, and funds gained through activities which probably violate the Computer Fraud and Abuse Act, Cody treats Nicki to expensive dinners and gifts. They often take trips to New York City, where they attend Adtech conventions.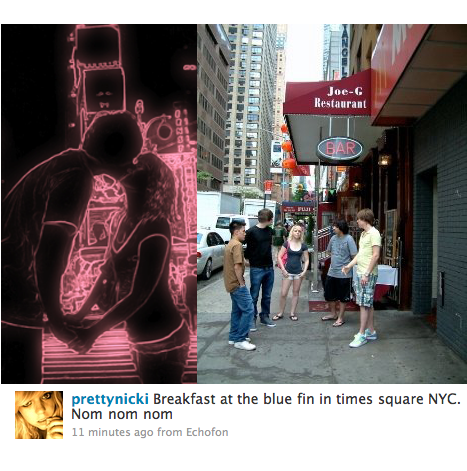 Hacker mystique aside, Nicki's taste for forbidden flesh recalls the case of Debra Lafave. Ms. Lafave was an attractive blonde 25-year-old schoolteacher arrested in 2005 for making a man out of a 14-year-old student in her class. The "schoolteacher fantasy" appeal of the story, and Lafave's good looks, made national headlines.


The psychologies of the two would make an interesting comparison. "I am not a sex offender," Lafave told Dateline after she agreed to a cozy plea deal that required her to register as, you know, a sex offender. Meanwhile Nicki continues to believe that her relationship with Cody is love and not, you know, illegal.
Hamlet:
Heaven and earth,
Must I remember? Why, she would hang on him
As if increase of appetite had grown
By what it fed on, and yet, within a month—
Let me not think on't—Frailty, thy name is woman!—
Hamlet Act 1, scene 2, 142–146
http://twitter.com/prettynicki
http://www.myspace.com/1040
http://stickam.com/nicki
http://stickam.com/hacker