FOX News and StickyDrama have this in common:  We looooooove reporting sex crimes that take place on Stickam.
Following up on a story published in 2008, FOX reported this week that the FBI arrested 40-year-old Lawrence Joseph Silipigni, of Saugus, Massachusetts, for coercing or enticing underage girls to perform sexually explicit acts on a webcam—and he did it on Stickam.

Mr. Sillipigni apparently stole the identity of an unknown teenage boy and posed as 17-year-old JaminFallen. Being more interested in corporate sponsorship than user safety, Stickam deleted that account without a peep to its community and did not announce that the "hundreds of unidentified victims" should contact the FBI.  Fortunately, images of the fake identity are still floating around on other fake accounts.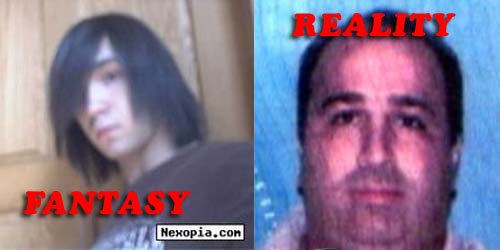 FOX, like StickyDrama, has received so-called "Cease and Desist" letters from Stickam when the network aired unflattering news reports about sexual predators on its live streaming service.  FOX, also like StickyDrama, can air or publish content recorded on Stickam, but cannot display the Stickam logo.  FOX won't even mention Stickam by name anymore.  But The Register, a British tech blog, named Stickam as the means by which Sillipigni committed his crimes, and even went so far as to link his fake Stickam scene boy profile.
"I'm the same person, just older," Silipigni wrote to one of his 14-year-old victims after she had learned his true identity and confronted him. "I'm not as hot and I'm chubby. I'm lonely and hate being old."  He is charged with production of child pornography, since he recorded and streamed the underage performances.  Since he enticed girls in different states, he is also charged with "use of facility of interstate commerce to induce a minor to engage in criminal sexual activity."
You must be so proud, Steven.
http://www.stickam.com/jaminfallen