UPDATE: Jeffree forwarded menacing text messages from Trace Cyrus—Hanna's "famous boyfriend who does drugs and ignores her all the time"—to Perez Hilton, who promptly posted them on his mainstream celebrity blog. Although Trace does not threaten to kill Jeffree, he does suggest he'll "kick [Jeffree's] ass."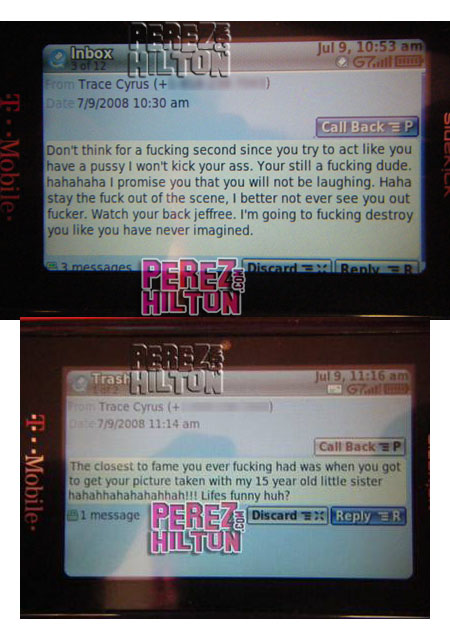 According to Perez, "Jeffree tells us he plans on contacting the authorities."
Jeffree Star was one seriously pissed off cocksucker this morning, and he posted away a bulletin like only a seriously pissed off cocksucker can. What set him off: Miss Hanna Beth removed all her Myspace photos in which he was depicted.
Our readers will notice our markings in red, highlighting their grammatical mistakes. Stay in school, kids!



Solecisms aside, StickyDrama cannot help for once having sympathy for Jeffree, assuming his allegations are correct. (We could not verify whether Hanna had removed the photos, since her profile is set to private.) In her own bulletin response, she claims she removed "a few photos" out of concern for her "public image." Bitch, please—it's the new millennium. Refusing to be seen with a gay celebrity—even a nasty untalented pink one like Jeffree—is insulting. And if he was indeed a true friend to Hanna, her actions seem all the more loathsome. Jeffree's anger (although perhaps not his airing of Hanna's dirty laundry) is justified.
Unless Jeffree was shaking his putrid tranny cock at the camera, pure and simple homophobia is what drove her to remove those images. We hope her gay fans abandon her in droves.
http://www.stickam.com/misshannabeth
http://www.stickam.com/jeffreestar