Nine out of ten boys agree: NathanAmazing starts looking sexy as fuck when the cocksucker has hacked their phone, email, AIM and MSN, and wont give the accounts back until they've gone Private with him.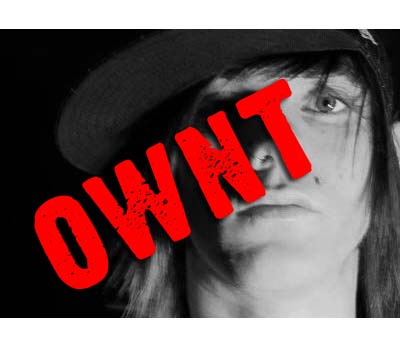 In the weekly roundup of online terror, Nick of Radiation Year was his first victim. His Stickam was deleted; shortly after StickyDrama was sent caps of Nick eating his own cum, it was restored.
Mr. Amazing was in the mood for anal the other night, and had Andy Br00t4l finger himself. Deeply. Andy preferred to get the rectal violation out of the way before any of his online accounts were suspended.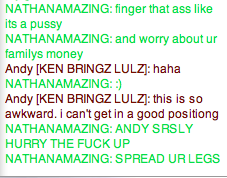 Last but not least, Nathan's longtime nemesis Seka had her phone disconnected the other night. Not being fortunate enough to have a penis, she was unable to offer Nathan anything in exchange for having her service restored.

http://www.stickam.com/ibback
http://www.stickam.com/radiationyear
http://www.stickam.com/andy_br00t4l
http://www.stickam.com/seka_420