There is a new(ish) kid on the block dishin' out fresh Stickam fish. Their 11 pages of posts date back to April 12th 2009… so yes, new. It joins the ranks of one other site we've also noticed and gleefully monitored with a whole lot of Stickam videos. Im sure there are more. This new site is reminiscent of Router's early brainchild site: www.stickamsluts.com.
Interestingly this site uses both the Stickam Logo and full Stickam Name in the URL and on the site itself — two no-no's that screwed up Router's plans. Nevertheless this site remains now over a full month into operation and still dishing up nice, fresh, wet, young pussy. These pesky legal matters don't mean shit when you've posted a video that clearly says the subject is 13. (which is not the image pictured below)
Users will enjoy a simple layout with useful thumbnail snapshots to help you decide if you want to see this bitch fuck her hand. Its all great except this queer eye thinks they definitely needa get rid of some of those messy interchanging backgrounds. bleh.
No more scavenging through P2P networks, AnonIB or Chan sites for high quality Stickam bitches. These sites are taking away all the work of finding the vids or sweet talking self-obsessed bitches for hours on end to get them naked. As ancient man once discovered, more can be done with proper teamwork.
Reportedly this site gets 10 bucks for every 1000 downloads so in the end these little bitches are making them some cash. These sites are posting more and more Stickam videos faster and faster. On top of that, its merely an observation but its seems that cam vid consumers seem to have an exacting preference for Stickam 'private' videos over normal cam bate videos. I suppose that could be an illusion influenced by biases but im not sure.
Curiously Stickam has now quietly and conveniently removed their logo from private sessions, emblazoned them with a loud, obnoxious 'PRIVATE'. The debate about how 'private' it is, is another long fucking post in which i will fictionally theorize for lulz.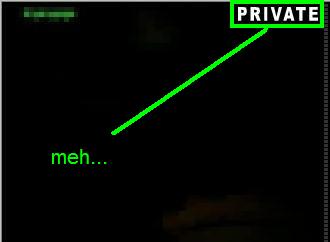 In my opinion if Stickam had brains they would not show people as LIVE at all while they are private — preventing people from being all butthurt on the outside. Oh and it would be more…whats the word?…PRIVATE.
Its disappointing that there is not more emphasis on male Stickam videos. Most of those seem to float behind the scenes. However Sticky-n00dz hasn't been all too bad lately.
Have fun!