Not surprisingly, online attention whore Mikeyy is still raising hell on Twitter where he recently gained national attention as was previously posted. He spammed links to his site and made other childish tweets in the dim glow of his monitor that only a uncreative monkey could compete with. Now he is busy messing with personal accounts like he did with Dfizzy today.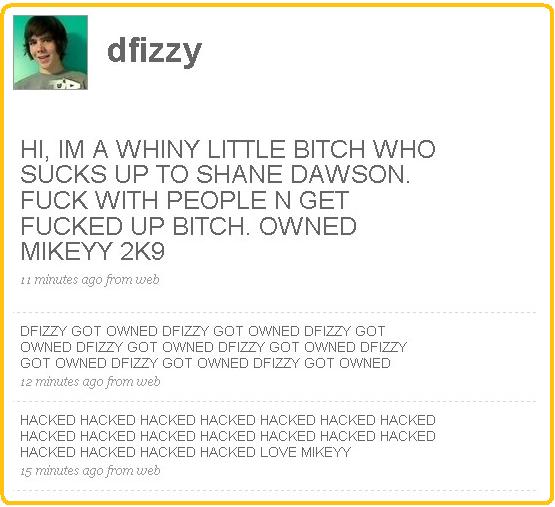 Its unclear why he chose Dfizzy as they have never even spoken — meaning either this was an attack of mere opportunity or Mikeyy is now taking requests. However this isn't the first time Mikeyy has targeted dfizzy. A couple months ago it was his BlogTV account.
My question is when is Twitter offically going to deal with Mikeyy? Granted the attack was minor and ended up simply being a nuisance for twitter but it is illegal and he obviously hasnt stopped. Mikeyy is admittedly and proudly in breach of U.S.C. 2701:
Unlawful Access to Stored Communications. This states that anyone who… "intentionally accesses without authorization … an electronic communication service …and thereby obtains, alters, or prevents authorized access to a wire or electronic communication while it is in electronic storage in such system shall be punished…"
… and undoubtedly several more laws. Im very curious what sort of cases are being built against Mikeyy. I'd like to see him keep this up when Google acquires Twitter as is rumored to happen.
Normally I would find myself supporting a miscreant mischief maker like Mikeyy but after reading all the utter bullshit he posted in his spam tweets, and reading his subliminally narcissistic quotes like "I thought about it later and basically did it because I was bored," — it has ultimately made many detest him. (And he doesnt have enough nudez.)