Not one week has passed since Tomy Toolshed announced his so-called "Final Show" on Stickam, and voila: He's back on Stickam talking shit and asking viewers to subscribe to his show. Same old shit. But Tomy's behavior deteriorated from immature to downright repulsive when he defiantly admitted on-cam to statutory rape.


Tomy began his so-called comeback by shit-talking his ex-girlfriend Britni and having NathanAmazing DDOS Elliot Ben's Live (in exchange for showing 16-year-old Nathan his cock). Not very smart, pissing off someone who has your family members' phone numbers. Britni promptly went into Elliot's Live and PMed him Tomy's grandfather's phone number; the Jew called him. Tomy, who has pranked Elliot's stepfather, whined that calling family members "crosses the line." Elliot only called Tomy's progenitor twice though, and the conversation ended in I-love-you's as Tomy helplessly watched. Angered that she would thus enable Elliot, Tomy declared he could "keep calling [Britni] all night."

The feud between Elliot and Tomy is nothing new. But Elliot Ben's recent gains in the rankings have no doubt been especially irritating to Tomy, whom Elliot has shot past. In fact, Elliot has lately so outperformed Tomy that the latter even tried to convince the Jew to "work together." Elliot, who yesterday hit #1 in both the StreamRank and Most Subsribed charts, contemptuously declined.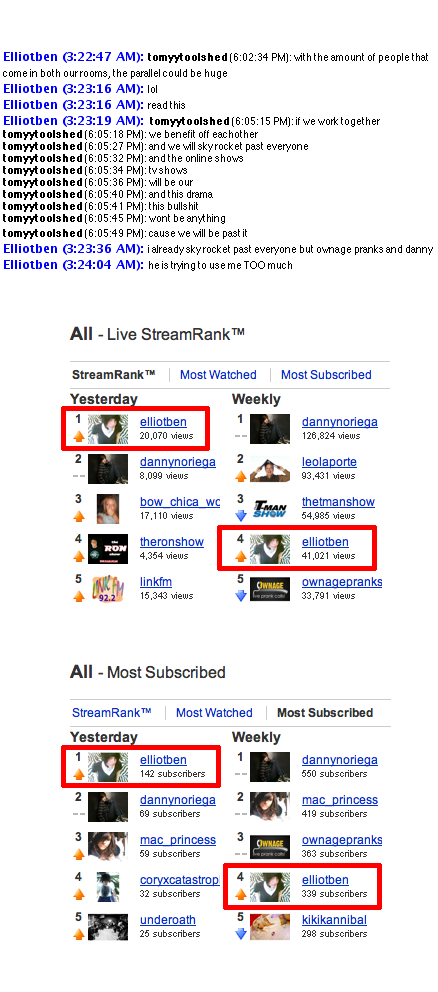 At this point StickyDrama would like to remind our readers that Tomy was leaving Stickam "to make my father proud … so I can hear him say for once, "I'm proud of you Tomy.'" WELL, we would like to know how proud the father would be to hear his son not only admit to the crime of statutory rape against 16-year-old Angelica Applesauce, but defiantly challenge anyone to "prove it" and try to have him arrested. Since she was under 17 years of age at the time but older than 13, and Tomy was legally an adult not more than 5 years older than she, he is guilty of a ?criminal sexual abuse,? a Class A Misdemeanor under Illinois statute 720 ILCS 5/12?15.

Tomy makes the point that he's a puny boy who couldn't force anyone to have sex. Therein lies a common misconception among Stickam users: the difference between consensual but statutory rape, and nonconsensual rape involving physical violence. While Tomy did not harm Angelica physically, she was clearly not comfortable with the sex and the experience has scarred her psychologically; a 16-year-old is liable to be manipulated and intimidated by a 20-year-old.
StickyDrama finds it disturbing and offensive that so many Stickam users blame the victim in these situations, choosing to denigrate the younger girl and excuse the older boy's actions.
http://www.stickam.com/tomytoolshed
http://www.stickam.com/elliotben