New Jersey resident Diana Chance has long been known for her sexually explicit Live performances on Stickam, which have gotten her banned through many online profiles such as dianachance, Sexygirly, Hot Mami, Hot Mami Live, Hot Mami TV and most recently Lov3g?dd3ss.
Her debaucheries vary from playfully jiggling her breasts on-cam, to charging $10 admission for a full-penetration 3-way in her private Live. But StickyDrama was recently sent irrefutable proof that her lifestyle is not only sleazy, but criminal: Ms. Chance's 7-year-old son, whose identity StickyDrama shall not reveal, in his naive innocence sought to play with his mother and a hired sex performer while they were in bed together.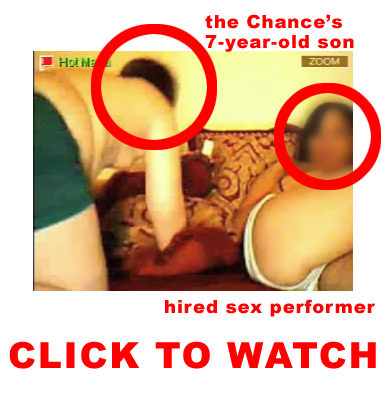 This clip shows only the moment when her son joined Mami and her hired sex partner on-cam; for a better idea of what was happening in her son's presence, please see the January 6 "Live Sex Shows" post in our n00dz section.
Laws addressing "child pornography," whereby we mean materials depicting "lascivious exhibition" of the genitals of a person who is under 18 years of age, are fairly straightforward. Laws addressing a situation such as this, in which a child witnesses a sexually explicit performance broadcast over the internet, are varied, complex, and open to interpretation as to what qualifies "endangering a child's welfare." Let it suffice to say that there are several statutes prohibiting the exposure of indecent or obscene material to minors, such as federal statutes 18 U.S.C. 1470, the Child Abuse Prevention and Treatment Act (CAPTA), and New Jersey statutes N.J.S. 2C:34-2 and 2C:24-4.
When StickyDrama first confronted Ms. Chance with the criminal aspect of her performances, her response was as cavalier as it was repulsive. She defied us to "prove" her son was present during her sex shows. At the time, StickyDrama did not have video or screencaps proving beyond a doubt that her son was exposed to sexually explicit material.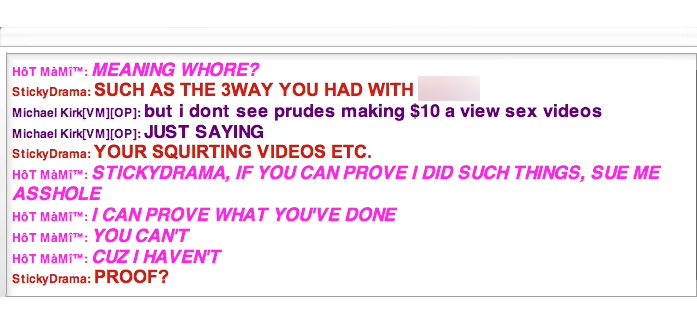 Then the situation changed. An anonymous angel sent StickyDrama a video, recorded when the Chance's hired sex performer lived in their home over a 2-week period in January 2008, proving beyond a doubt that her 7-year-old son not only witnessed live and recorded sex acts, he joined in them. While the child is obviously well-fed and apparently not in danger of physical harm, how disastrous must be the effects on his developing mind, when such filth unfolds before his very eyes!
As required by law in our locality, StickyDrama alerted the New Jersey Department of Children and Families (of which Child Protective Services is an agency) and the New Jersey Police's Cyber Crime unit. StickyDrama was stunned and disturbed that after several days the police still have not returned our call. Thankfully DCF confirmed that an agent was sent to the Chance's last known address, which was published in a local newspaper after their family home caught fire.
Any reader with more information regarding endangerment to Ms. Chance's son's physical, mental and emotional well-being is urged to contact StickyDrama, the New Jersey Police or the New Jersey DCF. Calls to DCF remain anonymous; calls to the police do not.


http://www.myspace.com/dianachance

http://www.stickam.com/hotmamitv