Our greatest desire often becomes our greatest weakness.
StickyDrama has a weakness for tall, hung and financially distressed str8 boys; but fortunately for us, they prefer to return to the calm abyss of anonymity whence they came.  Matthew Lush, meanwhile, can't seem to resist barely legal blond twinks who end up airing all his dirty laundry on YouTube.  With a kitten face.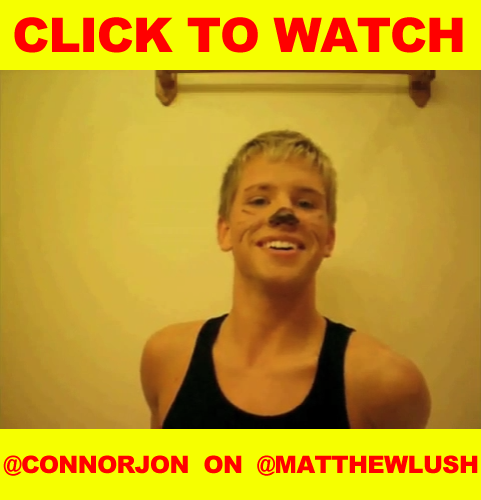 Among the video's many gems, Connor Jon reveals what triggered his breakup with the despicably fake cocksucking spamgod: Lush's flirting with a rich fan.  "I'm just trying to use him for some money," Lush explained, but Connor was having none of it.
During the 10-minute video Connor made several statements that seemed worthy of transcription:
"Matt is a fucking loser, abuser, and a user"
"He's a loser because he's never had a job in his entire life, and he relies off of 12 year old boys and girls to pay his rent by buying cheap ugly as shit."
"He's an abuser because mentally abused me and I was fucking stupid …  You think he's so peaceful and nice?  He's hit me.  He slapped the shit out of me because I told someone he changed his name."
"People deserve to know.  If they think some person is like a god … someone really you have to look up to, they should know the facts about them.  Matthew Lush is a piece of shit.  I was with him for over a year.  So if you people think that I don't know shit about Matt, you're wrong.  Because you know him off the internet, and what he likes to show you.  I know everything about him.  I thought I was in love with him.  But he is nothing but a piece of shit, and I realize it now."
"He uses every single person he can."
"He shows people on the internet things that he wants them to see.  He doesn't show them how he really is.  He fakes it.  He's a fake ass bitch."
"I was brainwashed because I was in love….  He'd do all this shit to me and I'd run right back.  I'd apologize for things that weren't my fault.  I had a horrible relationship.  I had to hide things about me, I could never ever say anything about eating meat….  Love brainwashes people, and don't ever let it brainwash you.  Don't ever lose awareness of what's really going on in a relationship."
Kitten face aside, Connor's video was significantly more serious in tone than a similar live rant Lush's ex-boyfriend Max made against the spamgod back in early 2008.  Let's hope we see Connor spreading Ken-doll-smooth asshole across the pages of XY like Max did too.
http://twitter.com/MatthewLush