nXc, the hacker credited with having reduced Mikeyy to an ownt bitch, has confirmed with StickyDrama that he is in fact Daniel Destruction. nXc is an abbreviation of Daniel's Stickam URL, ninjaxxcore.
CLICK THE IMAGE TO VIEW IN FULL RESOLUTION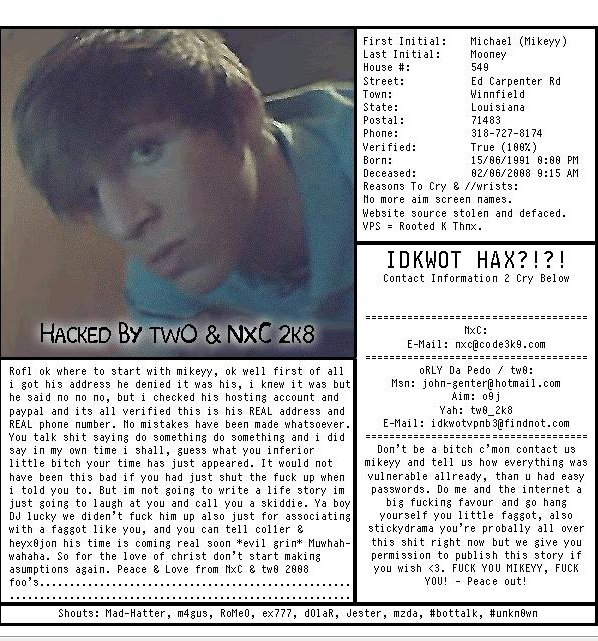 CLICK THE IMAGE TO VIEW IN FULL RESOLUTION
After replying to our messges sent to nXc's email, Daniel explained why he defaced Mikeyy's several websites, including iloveadds.com and mikeyy.com. oRLY Da Pedo created the above graphic and wrote its text, which does not adequately describe Daniel's efforts. The hack, and the motivation behind it, were both entirely Daniel's: Months ago, Mikeyy had gained access to Daniel's Stickam account; the account was banned after Mikeyy streamed his infamous gay chubby porn, in which an obese man fingers his asshole.
Our readers will recall that at the time Mikeyy was quite a handful for Stickam, hacking the accounts of popular Entertainers and AVC employees alike. Countless users fell victim to his seemingly random hax and petty chatroom kicks. Finally Stickam's general counsel sent the Lousiana teenager a Cease & Desist letter, putting an end to most of his mischief.
Perhaps time does heal all wounds. But Mikeyy's reign of terror is certainly still in recent memory, and no doubt many readers will smile at the frustration he evinced as he whined to Daniel in our chatroom early this morning.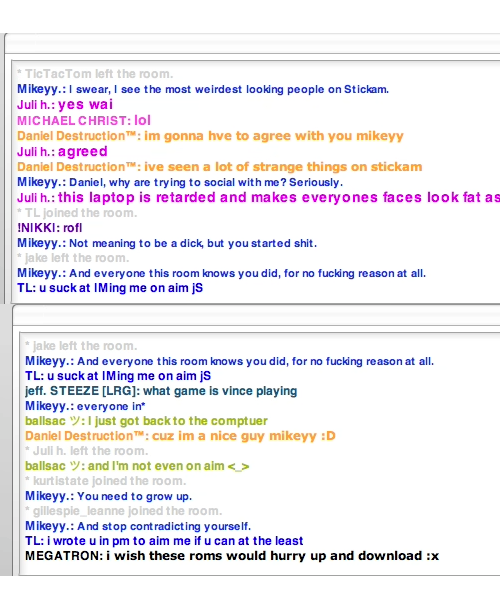 The lulz don't end here. To make an already embarrassing situation utterly humuliiating, news of this hack is herebelow accompanied by a recording of Mikeyy engaged in phonesex with 2 well-known female Stickam users, whose identities we will not reveal.
CLICK TO HEAR MIKEYY PHONE-BONE
He moans. He begs to be spanked. And, after blowing his load, he awkwardly hangs up.
http://www.stickam.com/profile/ninjaxxcore
http://www.stickam.com/omgthatsaguy
http://www.stickam.com/profile/invalid_user